by Caroline
I usually don't have much trouble getting my kids into the kitchen; we make sushi together, we make muffins, we make cakes and pancakes — mostly I bake with the kids, because mostly I bake, period. But anything I'm making, they're welcome to participate, and they're typically eager to help.
Still, when a link to this article about cooking with kids appeared in my inbox, I couldn't help clicking on it; how are others getting their kids into the kitchen, I wondered? What are they making?
Well, among other good cooking projects, they are making ice cream! And so on a recent cold and foggy day, we made ice cream, because it is summer and summer means ice cream, and because this recipe (from High Flavor, Low Labor) sounded so delicious to me.
1/2 cup balsamic vinegar
1 tablespoon strawberry jam
10 cream-filled chocolate cookies (such as Oreos or Newman-O's)
1 pint vanilla ice cream
If you're starting with store-bought ice cream, take it out of the freezer and let it sit in a big bowl while you start preparing the other ingredients; you want it to be soft so that you can stir them in easily. If you're starting with homemade, prepare the other ingredients while the ice cream is mixing in your ice cream freezer, and then stir them in at the end.
In a small saucepan over medium-low heat, combine the vinegar and jam. Simmer, stirring often, until reduced by half, about 8 minutes.
Eli says don't stand too close; the fumes of the simmering vinegar are strong!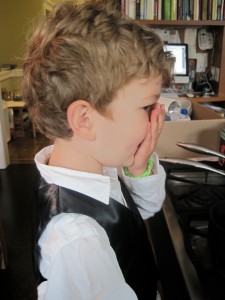 Set aside to cool.
Meanwhile, place the cookies in a zip-close plastic bag and gently pound with a meat mallet or rolling pin to break into small chunks.
This is, of course, a great job for kids: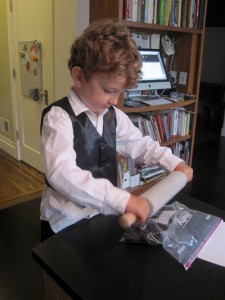 Drizzle the vinegar into the ice cream and mix until blended.

Mix in the cookies.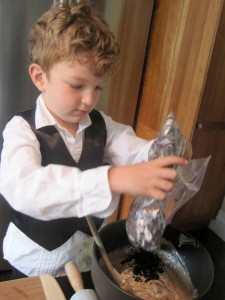 Stir well, and then stir one more time to make sure the balsamic syrup is well distributed. Dump the ice cream into a container with a tight lid and return to the freezer until firm, 2 to 3 hours.
Eat.