by Caroline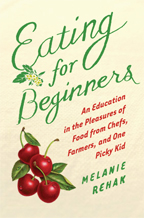 I love food and cooking, love raising and feeding my kids, love to write. Sometimes, as in this blog, those interests intersect and I get to write about the food I feed my kids. Sometimes, almost even better, I get to read about someone else doing all of that. This is one of the many pleasures of Melanie Rehak's new memoir, Eating for Beginners: An Education in the Pleasures of Food from Chefs, Farmers, and One Picky Kid (Houghton Mifflin Harcourt, 2010).
A few years before her first son, Jules, was born, Rehak began to read more about food and food production – she read Michael Pollan and Eric Schlosser and Wendell Berry – and the more she read the more she wanted to learn, first hand, about the food she bought and cooked each day. That growing interest , coupled – at the birth of her child – with a growing person for whom she was (with her husband) responsible for feeding, brought her curiosity to a head:
"What really happened…was the unavoidable collision of two worlds of information—parenting and eating. To begin with, there, in the form of my baby son, was an actual person for whom I wanted to leave the planet in decent condition. That goal was no longer just a noble abstraction. Then there was the amazing fact that I had before me in a highchair someone who had literally never tasted anything, whose body had yet to be tainted by MSG in bad Chinese take-out, or clogged by palm oil 'butter' on movie theater popcorn, or compromised by pesticide residue. I was unprepared for both the sheer weirdness of this – was it possible that I actually knew a person who had never eaten chocolate?—and the huge responsibility I felt to get it right. . . .Some part of me resented the fact that something that should have been a pure pleasure, teaching a person to eat, was now so complicated. "
Oh, Melanie, I hear you.
Now, some of us would spend more time at the library or bookstore, reading everything we could get a hold of about food, nutrition, parenting. Others might just throw their hands up in confusion and defeat, and continue feeding their kids the way, for better or worse, they were fed themselves. Some of us join CSAs, buy local, visit farms. But most of us don't make the decision Rehak did, which was to volunteer to cook at a local restaurant, Brooklyn's applewood (yes, applewood, "the lower case a," Rehak writes, "being a choice the owners hoped would convey plenty in contrast to the sharp, aggressive point of the capital A they had foregone." A small point, but to me, unfortunately, it never looked like a proper name no matter how many times I read it in this book, and always like a typo). She decides the best way to learn about food is to make it herself, in a small, family-run restaurant whose generous and amazingly accommodating owners, David and Laura Shea (the parents of two young children themselves) buy their restaurant's meat and produce from small local farms. She also visits those food producers –a cheesemaker, a farmer, a fisherman, a food distributor – riding along in their tractors and trucks and seasick-inducing boats, not just taking notes, but hauling and picking and cleaning – to get a better understanding of the exhausting labor behind writing the restaurant's menu each night. It's a fascinating behind the scenes tour, and Rehak's prose brings these individuals vividly to life.
The publisher, Houghton Mifflin Harcourt, is offering ten free copies of Eating for Beginners to Learning to Eat readers. Just leave a comment below saying why'd you be interested in reading the book; the first ten to comment get a book!
Edited to add: For any of you on Goodreads, Melanie Rehak is participating in a Q&A there for the next couple weeks, so click on over to contribute!