by Caroline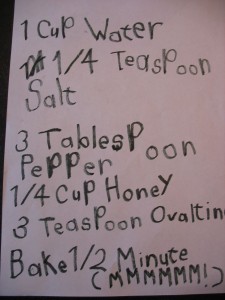 I love Pete Wells' Cooking with Dexter column, and this week's installment spoke to me particularly. Wells, apparently, is a perfectionist, and his occasional cooking missteps make him storm and stomp – unless his five year-old son is around. Then, because like any parent Wells likes to model more constructive behavior, he checks his temper and tries to let the mistakes slide off his back.
The article resonated with me not so much because I'm like Wells but because my son Ben is like Dexter – a boy who will erase a mistake so hard that he wears a hole in the paper — and the note Dexter wrote to himself after a painting went awry breaks my heart: "Step 1: Do your best! Step 2: Try again."
But Dexter goes for it in the kitchen, and so did Ben at the same age. Wells writes, "When Dexter is at the stove, neither failure nor success surprises him. Watch him bake: he freestyles like a snowboarder." And amazingly, it works. He wings it, and most of the time it turns out okay.
Ben's never entirely freestyled – he loves the mathematical precision of baking's measurements too much to abandon them entirely – but when he was five and a daily reader of cookbooks (he asked for cookbooks as his bedtime stories) he absorbed them so thoroughly he started to write his own. Here's another recipe Ben wrote when he was five (with my comments in brackets):
Whole-Wheat Bread
You'll Need
¾ c + ½ c whole-wheat flour
½ c warm water
1/3 c cornmeal
1 package (1/4 ounce) dry yeast
3 tablespoons + ½ teaspoon granulated sugar
½ teaspoon salt
1 ½ teaspoons baking soda
2 tablespoons + ¼ teaspoons wheat germ
¼ teaspoon baking powder
2 sticks (1 cup) unsalted butter [I talked Ben down from a full cup of butter, so we used 1/2 cup, melted]
Equipment
Measuring cups & spoons
Bread pan
Cooling rack
Preheat oven to 375 F.
Measure the flour, cornmeal & butter into the bread pan
Add the yeast and salt
Now add the water, sugar, baking soda & baking powder
Add the wheat germ
Bake up to ½ hour [it took exactly half an hour. This surprised me almost more than how good the bread tasted]
Note: This bread will taste good with some raspberry jam (page 77) [a reference to the jam recipe still to come in his hypothetical cookbook]
We ultimately halved the recipe (which delighted my fraction-loving boy) so a full recipe might need to bake longer than half an hour. Bake until the top is browned and a tester comes out clean. And it tastes alright, kind of like an especially crunchy soda bread.
(I wrote more about this baking experiment here).
Now that he's eight, Ben is less inclined to freestyle and more likely to follow recipes to the letter. He made his own birthday cake this year, choosing to follow a recipe in a kids' cookbook that I don't much like. I resisted the impulse to alter the recipe as he went, though, in favor of his getting direct experience with the recipes and letting him judge for himself. And really, although I could quibble about a few things, the cake tasted fine and — more importantly – the boy made his own cake!
Ultimately, I hope, there'll come a day when both my kids achieve a good balance in the kitchen: sometimes using cookbooks as inspiration for something new, sometimes following their recipes to the letter, always getting plenty of experience so that they can find ways to salvage the experiments that go awry, without deflating like a couple of soufflés.