by Caroline
Among the many cookbooks Ben owns, he's currently drawn most to the beautifully photographed Cooking with Kids. It's not quite as charming as Mollie Katzen's Pretend Soup, nor as fun to read as Alice Waters' Fanny at Chez Panisse, but it's got a nice mix of simple (chocolate bananas) and more complicated recipes (cinnamon meringues) and I like that, unlike in some kids' cookbooks, the recipes for pie start with a recipe for pie crust. Plus, it looks great, and there's nothing better to draw a kid into a new cookbook than gorgeous pictures of food.
Ben has dogeared more than half the recipes but on a recent rainy day, it was Eli who felt like baking with me, and we couldn't resist trying this recipe, named for a Doris Grant, who apparently invented the bread by accident. What accident? She forgot to proof the yeast, or knead the bread, or do any of the things one normally does to bread dough? It's not explained, and while I was dubious, the unconventional method produced a perfectly nice loaf of bread.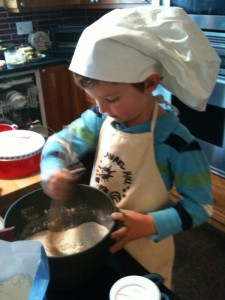 Butter one large or two small loaf pans (the recipe calls for a single 16x5x4″ pan, which is much bigger than mine so I used two 8×4″ pans)
Combine in a large bowl:
5 c whole wheat flour
1 t salt
1 envelope (2 1/2 t) active dry yeast
Stir together in a glass measuring cup:
1 T honey
2 1/2 c lukewarm water
Make a well in the dry ingredients, and pour in the liquid. Stir well for a couple minutes until you have a nice dough.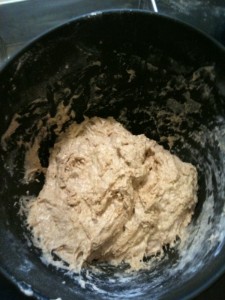 Put the dough in the prepared bread pan(s), smoothing the top a bit with a spatula.

you can see I'm not terribly precise about dividing the dough...


Let rise in a warm spot for 30-40 minutes, until the dough has risen to within about an inch of the top of the pan. While the bread is rising, heat the oven to 400.
Bake for 35-40 minutes. Test for doneness by turning the loaf out of the pan and tapping the bottom: if it sounds hollow, like a drum, the loaf is done; if not, return the loaf to the pan and bake another 5-10 minutes.
This is the hardest part: let cool before slicing.