by Lisa
I'm still wrapping up the posts about how we ate over the holidays, which is sort of nice because in the post-holiday filter I'm finding new ways to think about how our special occasion eating is related to and consistent with our every day philosophy.
Anyone who know me knows that Christmastime, the season, is nothing without the Nutcracker.  And even though we are immersed in rehearsals from September on, we still are devoted to seeing a big production before Christmas.  If we're back east, which admittedly hasn't happened for some years now, we go to Lincoln Center and see New York City Ballet. If we're here, we go to San Francisco Ballet's ravishing production, and this year was no exception.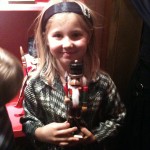 I share a season subscription to SF Ballet with a friend, but when the family goes to Nutcracker, we make a big day of it and also eat at Citizen Cake. Until this year, the children's energy level and naptime needs always necessitated a pre-show lunch, which has always been lovely.  But it did always pose the problem of what to do for dinner. We were home from the matinee to early to sleep, but no one wanted to cook after a lovely day at the theater, and we certainly didn't want to spend any more money….
But this year, with Finn well over his nap, and a veteran viewer of Nut, able to discuss special effects and story differences between the 4 different production he's seen at the ripe old age of 5, we (okay I) had a revelation: We would do dinner! An early, lovely dinner at Citizen Cake, and be home in time for bed.
And so we did.  And it was really, really lovely.  We arrived just before the dinner service started, and had a drink at the bar: Prosecco for me (I'm really predictable and boring); Shirley Temples for the kids (which Ella "savored" and Finn slurped); and a fresh egg nog thing for Kory.  We relaxed for a few minutes, were seated promptly, and proceeded to chat, order, and eat for more than an hour.  The staff was very kid-friendly, and they offered Finn several things not on the dinner menu.  Of course, true to form, he had the macaroni and cheese, Ella the burger, but before that, while we ate the duck rilletes and cauliflower soup, they colored and munched happily on some pretty amazing sesame flatbreads.   Ella scouted out the After Midnight cakes, which makes the outing for her every time, and I had one of the best chocolate desserts of my life, which I think was called a Log Cabin:  warm, flourless chocolate cake crumbled over a  pine nut crust and pine (not the nut, the tree) ice cream.  It was "heavenly", according to Ella, who might have traded me her After Midnight, if I'd let her. We were able to relax and linger in a way we never could at lunch (with a show to get to) and we were all still basking in the visions of sugar plums, even as the real thing was being set before us.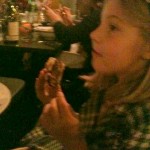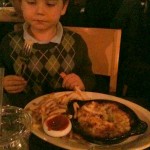 The whole evening was so perfect, that I found myself thinking about exactly why.   That said, here are some more things I've learned about taking your kids to an upscale restaurant.
1. Dine at a time at which they will be hungry, but not too hungry and not too tired. This may seem obvious, but you want your kids to be alert, engaged, at their best. You want them ready to eat, not ready for bed. If they're too hungry, they'll whine. Or fill up on bread and crackers. Either one will ruin your pre-dinner glass of wine, or your main course.
2 .  Don't let them fill up on bread or appetizers. If they eat too much too fast or too early, they're done and ready to bolt. Pace them. Let them have a bite of your first course if it's something they  like. Or order them something very, very small to split (olives, maybe?). Or let them have a small piece of bread, etc. from what's put on the table.   We really like to have a first course, so we've had to be ingenious about pacing our children right along with us.  They have to learn how to eat in courses, in restaurants. Our job is to help them.
3.  Bring something discreet and quiet to engage them. Like a discreet coloring page, a small sketchbook, a few crayons. Very many places offer these. Take advantage. Play tic tac toe, or hangman, or whatever your kids like. We're lucky that Kory can entertain them with his illustrations and both kids like to color.  The key, we think, is an activity that will engage and distract them during the wait if they need it, but which will not sever them from the table's life and conversation.  DO NOT bring a portable electronic game or an iPod etc.  Do not give them your iPhone to play on.  We think these cause kids to tune out, to disappear from the table, to bide their time until its time to bolt out the door. We think electronics at the table are just plain rude.   I've been known to read a book when I've dined out alone, but that was a very, very long time ago. I don't let my kids read at the table, either.
4. Talk to your kids about things that matter to them but don't pander. Make time for family conversation. Talk about their coloring, play a little game, but also take time to talk to your adult companions. Try to balance adult/kid interaction. It's your night out, too.
5. Let yourself & them have something special. Let them have that  kidtini (as long as it won't fill them up). Enjoy your glass of wine. Sit and linger if they let you.  Kids learn how to behave from you. If you're enjoying yourself and the food and their company, they'll learn restaurants can be fun, too.
6.  Make them wear nice clothes. As Kory said, there is a direct relationship between how well kids are dressed and how well they behave.  Nice clothes=something special=nice manners.  This is old fashioned but true.
7.  Encourage new foods, but don't force them. Order something your kids want to eat. Hint:  Sometimes, we don't even let them see the kids' menu.