by Lisa
This is not what you should do when you plan to take the kids to a fine dining establishment:  Make them drive 4 1/2 hours. Not feed them lunch. Check into a hotel and unpack while they run a little wild.  Drive to Said Fine Dining establishment without a reservation, nor even any clear idea about where you will be eating that night, even though all four of you are very hungry for a Real Meal and tired and already more than a little road-fatigued.
Nevertheless, after checking-in and unpacking and putting on clean and reasonably nice clothes, the family (ok,  Kory and I) decided to drive to the Hotel del Coronado for dinner.  It was early–around 5 pm–and the beautiful old hotel was nearby, and we knew that there would be several food options once we arrived, but we really didn't plan ahead aside from frantically scanning menus on my new iPhone on the 20 minute drive over.  For some reason, my husband and I became fixated on eating at 1500 Ocean because the menu looked so nice and we were tired and just wanted a good meal. I know this is not what most normal, sane parents think when confronting dinner at the end of a long day of traveling: gee, let's take our kids to the fanciest place we can find, so we grown ups can have a really good meal!  And we don't, usually.  But, we were so far into vacation mode, and the kids had on cute-enough, clean clothes, so we did.
The Coranado is reputedly haunted, which story the kids loved, so we explored the gorgeous old lobby a bit while Kory got us a reservation, and then we descended in a magnificently ornate elevator to the restaurant.   Unfortunately, we didn't get a table outside, but we had a really lovely, cozy booth, replete with comfortable and chic back cushions, which Finn and Ella found very fancy.
One of the things which sold us on 1500 Ocean was the excellent kids menu, printed separately on a beautiful card, which made for a really nice souvenir (I've been collecting menus for years, but this is Ella's first one):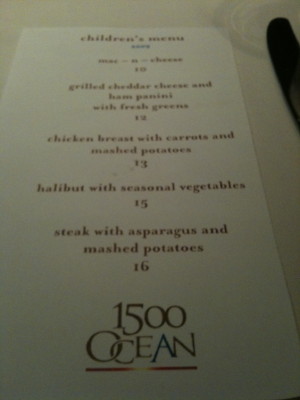 There was beautiful bread :
with homemade butter sprinkled with (I think ) black maldon sea salt: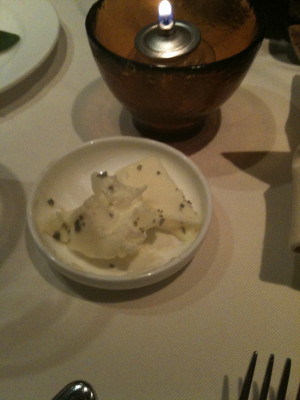 So the kids knew right away that this was someplace Special and Different and Fancy. They're both at that great age where aesthetics are surprising and gratifying: they happily recognize and appreciate when things are "So beautiful!"
But one of the great things about this elegant place is that they do welcome well-behaved children who are ready to eat.  The kids received their drinks in plastic cups with lids, which was funny and anomalous, but also nice.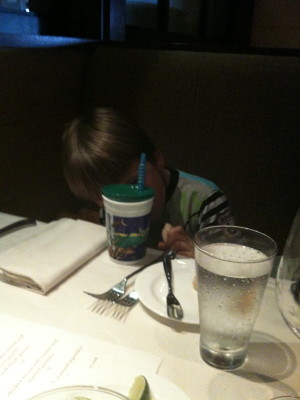 Things picked up with the amuse bouche of smoked eel with heirloom tomato. While Finn wouldn't touch it, Ella gobbled down hers, and his, and would have eaten ours, too, if given the chance.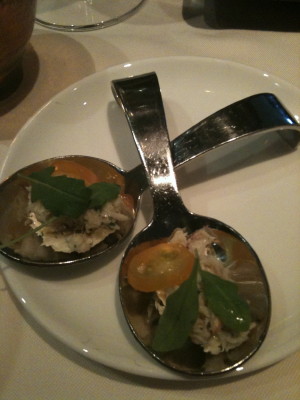 We split the Hiramasa Crudo, which Ella also loved:
and a shrimp cocktail that doesn't seem to be on the menu anymore. It was very good, but had heat, so we kept it for ourselves.
During all this, the special occasion Shirley Temples and Ocean Cava cocktails of brut champagne, blood orange bitters, and rock salt kept us  all very, very happy.
The kids both asked for mac-n-cheese, but we convinced them to get one mac-n-cheese and one steak with asparagus and mashed potatoes, which turned out to be a good thing. The server very kindly split the entrees onto 2 plates, so both got some of each.
Finn devoured the macaroni, which was more like a very rich, creamy deliciously fragrant pasta, and Ella, the carnivore, turned her nose up at pasta, but  couldn't get enough of the filet, which was delicious and perfectly cooked, even though the low light and the iPhone picture makes it look like a lump of charcoal. In real life, it was very pink and very tender.
I had the Maine Diver Sea Scallops, which were excellent and very pretty:
and Kory had Kurabota Pork Tenderloin, which was more defined and pretty than this picture allows, and also delicious: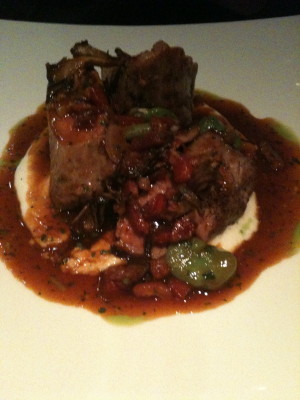 We splurged on dessert, too, including the Almond Brown Butter Cake, Cookies and cream, and Chocolate Chipotle cake, which had a lot of residual heat (but was really fun and excellent) and Ella bravely tried.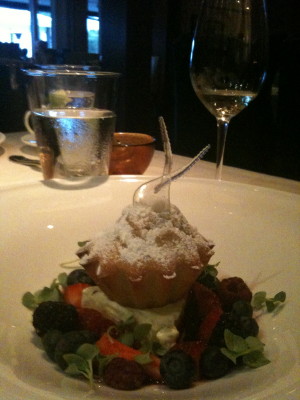 Through it all, the kids were completely terrific, in spite of their exhaustion.  (That pillow was very tempting for Finn once the macaroni-fontina coma began to set in.)  I'm certain they wouldn't have lasted through the tasting menu (which Kory wanted and I vetoed immediately), but their manners, if not impeccable, were certainly very, very good, and they understood exactly what was expected of them in a restaurant.  They tried new foods, and (Ella at least) liked almost all of it. They saw food in shapes and patterns they had never thought possible, which is always a fun aesthetic lesson.  I think the fact that they understand basic restaurant etiquette, combined with the general Fanciness of the place was the formula that worked for us in spite of everything that could have conspired to make the meal a disaster.  We did have to walk Finn outside during one break in courses, but to some extent that defeated the purpose because at a fine dining establishment, they won't serve your next course until you are seated and ready. But again, both Finn and Ella sort of liked learning that fact, and were pretty amused by the ceremony of it all.
After, we wandered the hotel and its courtyard: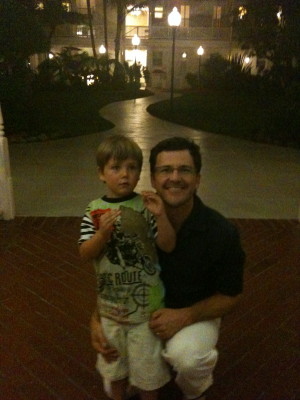 Made sand angels:
and watched the Navy Seals practice night landings on the beach until it got dark:
But the real icing on the cake was that in our wandering, on our way back into the hotel, we saw Hayao Miyazaki, sitting right there, in 1500 Ocean, just as we had (ok, maybe not just as we had) with half a dozen others, around an elegant firepit eating dinner in an elegant all white suit. Reader, it was like seeing Walt Disney.  Only better.  We told Ella exactly who he was, and her eyes opened wide because she knows and loves several of the Studio Ghibli films.  We gawked as much as we politely could, then we spirited the kids away, back to our hotel, and put them safely, well-sated, to bed.