By Lisa
A necessity of my cooking week is that Friday night dinners need to be quick and easy and mess-free.  The daughter has soccer until 6 pm, so there's not much time to prep.  Also, my housecleaner comes and for one day, just one, I like to keep everything sparkling clean and neat. It lasts only 24 hours (ok, barely 24 hours) but it's a really nice thing to have a really clean kitchen.  Also, we very often have family movie night on Fridays (though lately we have family So You Think You Can Dance night, in which the daughter is heavily rooting for the soccer player/dancer and the boy likes the krumper… but I digress.)
In the past, this easy dinner has meant take out (we have great Mexican, pizza, or sushi), but we're also trying to save money because I'm going to take a semester off from teaching in January, so lately I've tried to be creative.   One warm evening recently, we had a Charcuterie picnic.
I spread the tablecloth on the floor so the kids could eat picnic style.  (Also, it's an easy clean-up–just fold up the cloth, crumbs and all.)  I put out several trays:  one of mixed crackers, flatbreads, and bread; one of meats and cheeses; one of condiments; a bowl of corn on the cob, a small green salad, hardboiled eggs.  Much of this (corn, carrots, eggs) were leftovers so it was no work. The best bit was using nice trays and little spoons to make it look appealing. The kids grazed heavily and thought it was one of the best dinners every.    It's a nice end to the week–think heavy appetizers and cocktails, and you can vary the amount of meats/cheeses/salads to your particular level of cholesterol intake.  Smoked fishes or tuna would make a great, healthier alternative.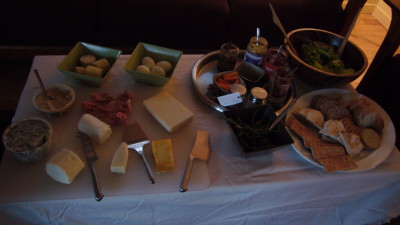 On the cheese board clockwise from far left: spinach dip, hummus, prosciutto, English cheddar, Cotswald, Pecorino Romano, fresh mozzarella, goat cheese

On the cracker board: Akmak flatbread, pita triangles, Golden Breton, Rye Krisp
On the silver condiment tray:  dijon mustard, olive paste, salt for the eggs, carrots, ligonberry jam, cornchons, homemade mixed nuts in honey
Basically, when you're making up a plate like this you want variety: one soft, one hard, one smelly, one fun/different cheese.   A range of breads/crackers.  Sweet (jams, honeyes) + Savory condiments (pickles, mustards, olive pastes).   Technically charcuterie refers to the meat plate, and we had mostly cheeses. You can read more about how to put together a plate here.  But the key, I think for an easily family night is not to go out of your way to find and buy a whole bunch of new items but to keep a few staple and one or two special items always on hand so you can throw this together quickly for your own family or even for those impromptu guests you wish might stop by.