by Caroline
Until recently, we have usually used dried beans around here mostly in craft projects: sandwiched between a stapled pair of paper plates, they make excellent tambourines; Ben's made a mancala game with a handful of dry beans and an egg carton; and of course the possibilities with construction paper, glue, and beans are pretty endless. Except for lentils, I tend not to buy dried beans for cooking because half the family doesn't much like them and they take a long time.
But I'm trying to get over that for several reasons. First of all, dried beans are cheaper; also, they pose no risk of chemicals leaching from the can into your food (as I just read about in Betsy Block's The Dinner Diaries); and although they do take a while from pantry to table, most of that time they are cooking easily on their own without your attention. If you have a pressure cooker or crock pot (I do not), beans are even easier and quicker. But mostly, I am getting over my reluctance to use dried beans because my dad grows such beautiful ones for us, and Eli had such a great time picking and shelling them in Connecticut last month, and when food is presented to me with such love, I'm not going to let it gather dust in the pantry until it's time to make a new tambourine. I'm going to make chili.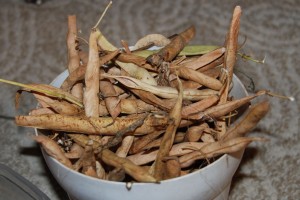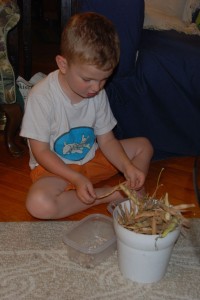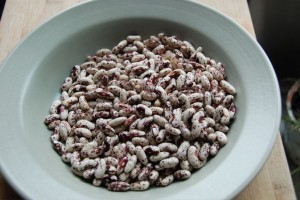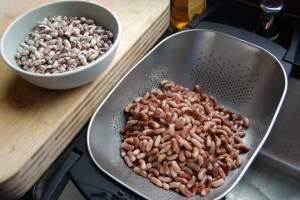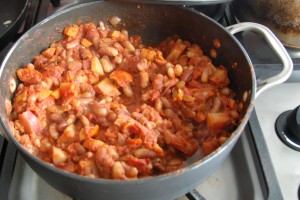 Chili's the kind of thing that inspires great passion and thousands of recipes, but for me it's always been a dump it in kind of thing, and I'm not a purist: I had some carrots that weren't getting any fresher, so I tossed those in, and when my chili turned out to be a lot spicier than I wanted, I chopped and added several potatoes to calm it down. Fresh corn would be a great addition, too. Here's the recipe for the chili I made, very loosely adapted from The Joy of Cooking:
First, soak your beans. There's no need to do it overnight. Simply put them in cold water, bring them to a boil and then, with saucepan off the heat, allow them to remain in the water for 1 or 2 hours only. Drain and refrigerate until ready to cook.
To cook the beans, bring them to a boil in a big pot of cold water, and then lower the heat and simmer for 60 to 90 minutes, or until the beans are tender. Now you're ready to make chili.
1 large onion, chopped, about 2 cups

2 large red bell peppers, chopped (I happened to have already roasted all the bell peppers I had in the house, so my chili used roasted bell peppers)
3 cloves of garlic, finely chopped

2 tablespoons vegetable oil

1 1/2 cups dry beans, soaked and cooked (I used the Jacob's Cattle beans from my dad, but a variety of different kinds would be nice; 1 1/2 c dry=roughly 5 c cooked)

2 pounds chopped fresh plum tomatoes (or if you don't have fresh, a big 28 oz. can of tomatoes)
a couple chopped carrots and/or potatoes, if you like
1 cup vegetable broth

1 cup dry red wine (or water)
1 fresh chile (serrano, jalapeno or the like) diced, to taste

1 T dried chili powder, to taste
1 T ground cumin

Salt and pepper

In a big pot, sauté onion, bell pepper and garlic in oil about 5 minutes or until soft.
Stir in remaining ingredients. Simmer uncovered, stirring occasionally, about 1 hour, adding more liquid (wine, stock tomato juice or water) as needed.