by Caroline
I did a favor for a writer friend recently, reading her manuscript and writing a blurb for her publisher. It was an easy favor to do– I'd enjoyed her earlier book, a collection of essays called Because I Love Her, and expected I'd like the new one, which I really did. So when we met up for a movie sometime after I'd finished, I was completely surprised and delighted to receive a shopping bag full of apples from her tree.
This is how our supply looked after a week: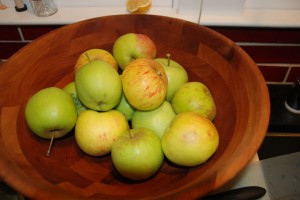 In the meantime, I baked many apple-y things: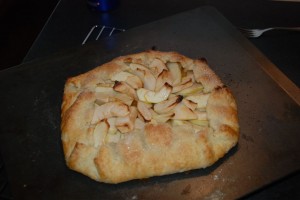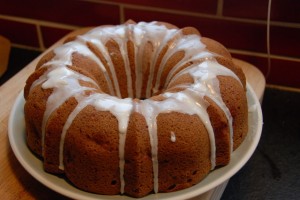 A couple batches of my mom's apple crisp and my new favorite, apple streusel coffeecake, a recipe I adapted from good old Joy of Cooking:
Preheat the oven to 350 and butter a 13×9 baking pan.
Stir together and set aside the streusel topping:
2/3 c flour
2/3 c finely chopped toasted walnuts or pecans
2/3 c brown sugar
5 T melted butter
1 t ground cinnamon
1/4 t salt
Whisk together:
2 c all-purpose flour
1 t baking powder
1 t baking soda
1/2 t salt
Combine in another bowl and set aside:
1 1/4 c sour cream or yogurt
1 t vanilla
In a large bowl, beat well until lightened in color and texture:
4 T unsalted butter
1 c sugar
Beat in, one at a time:
2 eggs
Add the flour mixture to the butter mixture in 3 parts, alternating with the yogurt mixture, stirring until smooth. Scrape the batter into the pan and spread evenly. Top the batter with 2 1/2 cups diced, peeled apples, and then the streusel topping.
Bake for 40 to 45 minutes, until a toothpick inserted in the center comes out clean.