by Lisa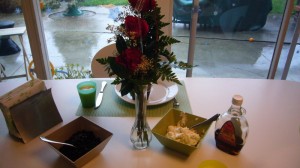 birthday flowers, whipped cream, maple syrup, blueberries…
Generally speaking, I'm not in charge of breakfast, and I prefer pancakes to waffles. This is not so true of my husband, who loves waffles, and who counted a waffle maker among the very few kitchen machines in his bachelor home.  He made waffles pretty regularly (from a mix, yes, but he still made the effort).
However, about a week ago, the kids requested waffles, and I found a Fanny Farmer recipe for Raised Waffles at Epicurious.  It's an interesting recipe that calls for yeast (which we always have) instead of buttermilk (which we don't).  Also, the griddle cakes we are devoted to are also a Fanny Farmer recipe, so I figured this one had to be a hit as well. And it is. These are incredibly light, not too sweet, and perfectly tender and crisp when they come off the waffle iron.  Ella asked for her dad's "special platter", which the waffles certainly deserve.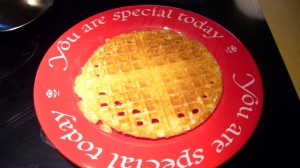 They are very, very, very easy to make, and like the English muffins, they have the benefit of being a make-ahead meal.  I don't really like to make an effort in the morning.  But for these waffle, you make the better the night before, let it rise, then add 2 eggs and 1/4 teaspoon baking soda in the morning. And, voila! They're ready to go.  There's no mess (unless you overfill the waffle maker), no flour to sweep up, no extra baking tools to wash in the morning.  Apparently the batter will keep in your refrigerator for a few days, but we just make the big batch all at once, and then reheat the waffles in our convection oven for  school days. The only down side is that, like all fresh waffles, you have to make them one at a time, and this can take time. But I sit on a tall stool, and baby sit the waffle maker while my family eats them hot. I'm very happy with my coffee, talking to them (we have an open kitchen), and by the time the last is done, I'm fully caffeinated and ready to eat. As far as I'm concerned, it's win-win.
The first time we made them, we had leftover whipped cream and frozen blueberries, so they went on the table. This was a very. big. hit.  Kids + waffles + blueberries + whipped cream=fruity, creamy waffles sandwiches for breakfast.  We've made them twice now, so I can safely say that the waffle maker Kory insisted on registering for when we married will have a more regular place in our slow-food breakfast rotation.
Hop on over to Epicurious for the recipe.  You won't need another one. And as long as you can dust off, or buy, a waffle maker, you definitely don't need frozen.