by Lisa
By all accounts, Thanksgiving was about not cooking around here. That's one reason for the dearth of posts about turkey.
The other reason is because the rest of the family was busy making the Thanksgiving movie, which I know all of you have been awaiting as eagerly as a new James Cameron flick, and the computer was tied up.  However, the computer crashed last night during the final render, so you just have to wait another day…but I promise you, it's really funny. And historical.
But we did institute some new traditions around here and revive some old ones.  First we are now officially celebrating for 3 days, just like the Pilgrims.
Day 1:  We feasted at my husband's parents new home with 4 generations, and it was a lovely day. I am very grateful to my mother- and grandmother-in-law for their cooking and hospitality. We brought them a bag of gorgeous Indian corn that we picked at the Fall Harvest Festival at Ardenwood farms, and big bouquet of Chrysanthamums, after Capote's The  Thanksgiving Visitor, which Ella and I read in the weeks leading up to the holiday. It's a gorgeous story, beautifully written, and even if it's a little sophisticated in its language and content, it's a story to grow on.
Day 2: We hosted old friends for a very casual afternoon of turkey sandwiches. I roasted what was probably the best turkey of my life, made stuffing from a box (which I would not do again).  Ella had made cranberry sauce in school, and we just set everything out on the counter and let people eat what, how and where they wanted.
The turkey recipe is simply this:
Take one heritage turkey, throw 3-4 whole bulbs of garlic and one bunch of sage inside the cavity.
Make garlic butter by mashing salt, 6-8 cloves garlic and about 6 tablespoons of butter, and rub this under the skin of the turkey all over the breasts and legs.
Add 3-4 more bulbs of garlic around the outside of the turkey in the pan, add 1/2 cup of wate.
Roast your turkey.  I am not going to weigh in on the high heat/low heat controversy regarding heritage turkeys. This year I did high heat (425 for just under 2 hours for a 12 pound turkey. I think it was too long. Next time, I'll try slow & low.)
Pour off all of the fat and drippings. Get rid of most of the fat but save the drippings.
Make a quick pan sauce by deglazing the pan with white wine.  Add the drippings back in. Serve warm.
The flavor of this turkey is incredible: simple and slightly garlicky, with a nice hint of sage.  Aside from putting on the soup, which takes maybe 20 minutes total, this was the sum total of my cooking for the long weekend.
Even so, the highlight of the afternoon was definitely the desserts broughy by our incredibly talented friend, Lisa Chan. On offering were: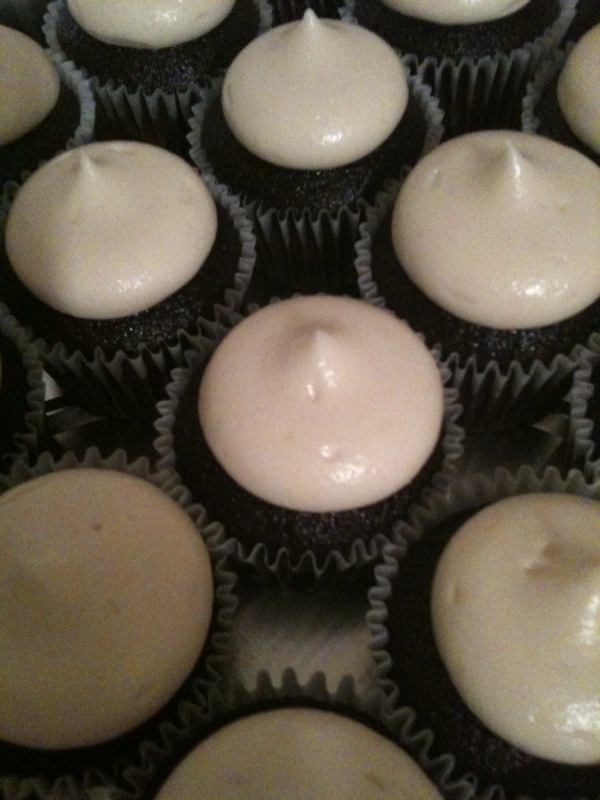 Mini Chocolate Anchor Steam Porter cupcakes with Bailey's Cream Cheese Frosting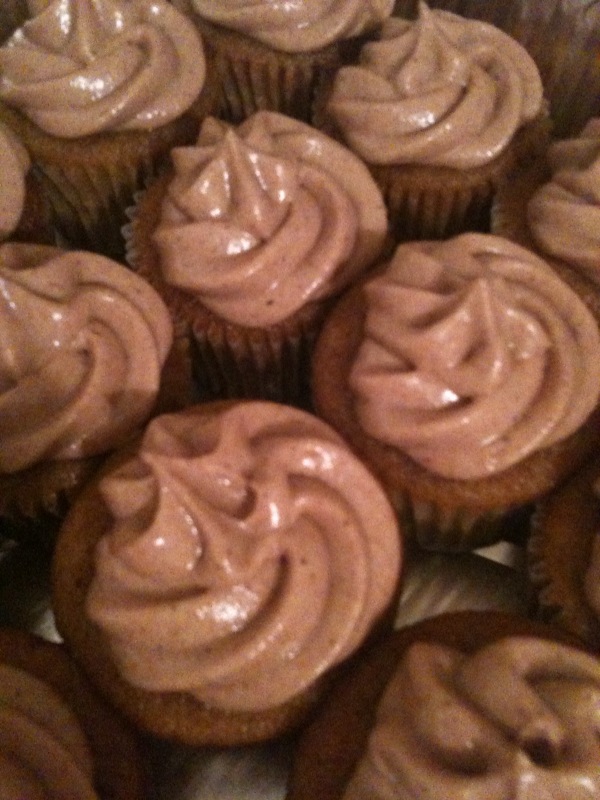 Mini Pumpkin cupcakes with cinnamon cream cheese frosting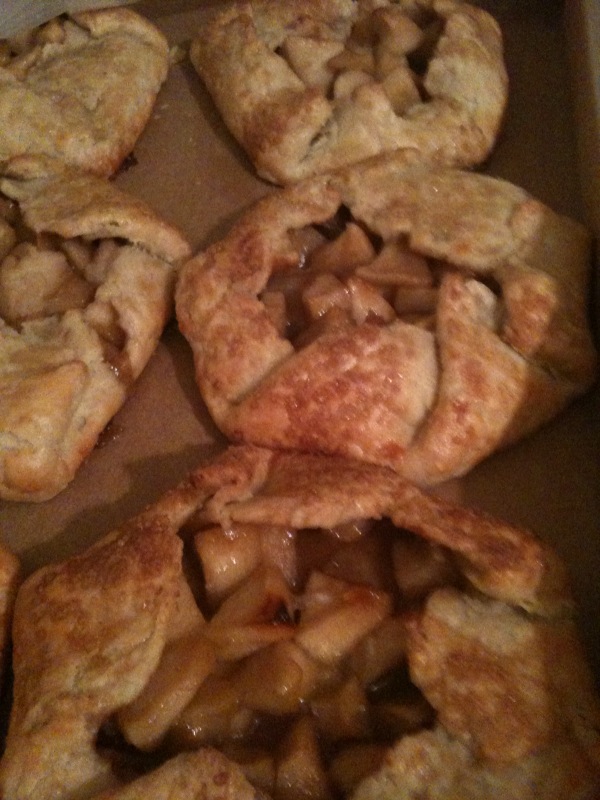 Individual apple tarts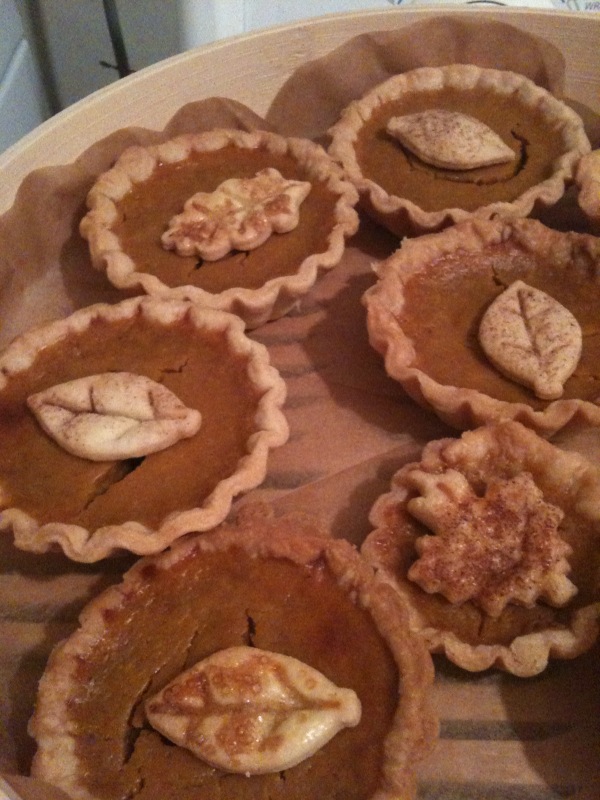 Individual pumpkin pie tarts, with fresh roasted pumpkins and dulce de leches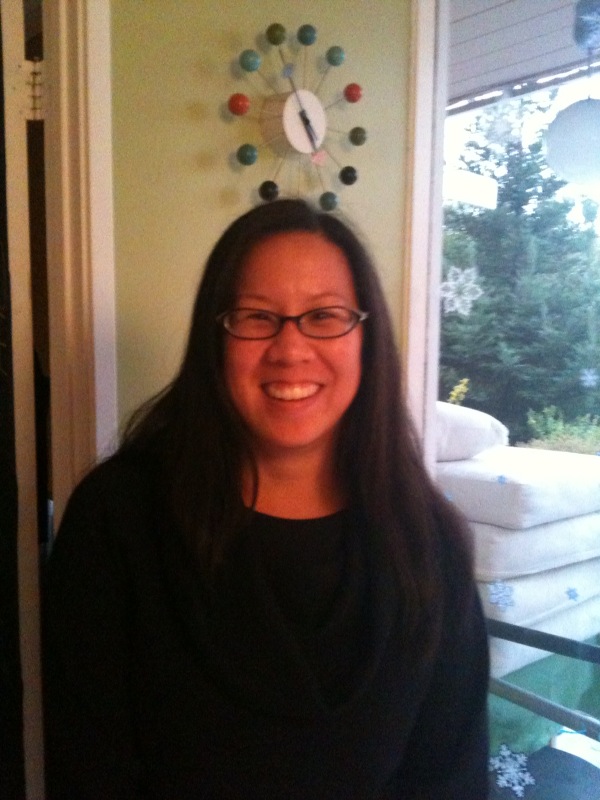 Lisa Chan, baker of extraordinary bite-sized desserts.
Contact her at mama_chan@yahoo.com for your next event. You will not be sorry. She's not just our friend, she has real clients, too!

To be quite honest, the kids ate dessert for dinner.
It was excellent to see our old friends again, with whom we've spent many Thanksgivings, and we've all agreed to get together every year on Day 2, if not Day 1 of this holiday. Growing up, my family spent every Thanksgiving with my mother's best friend from grammar school and her very fun family. We alternated homes, ate a lot, and played an annual football game, christened the Turkey Bowl, for which we had a small trophy that was passed back and forth between the families.  There was  a lot of football watched, a lot of joking and convivial good humor (4 adults and 8 kids will do that) and a long, satisfyingly fun day.  So I love the idea of saving some of this holiday to spend in a very laid back way with old and dear friends.
Day 3:  We did nothing.  The soup simmered, Kory worked on the movie, Ella & I went to Nutcracker rehearsal, and later, we ate the first batch of soup and watched The Nightmare before Christmas. Finn had a meltdown because he can't really eat and watch a movie at the same time, so some movie privileges were lost, and it was a very sad end of the day for him, but one meltdown in 4 days is really a success, and on the whole we had a very lazy, very relaxing, very peaceful, and very lovely holiday.  And for that we are grateful.
Tomorrow: Turkey Soup.
Soon: The Movie.