I now know what LEGO has to do with cake making, and, perhaps why so many pastry chefs are men.
It started with the rain.
It's been raining here, for days on end. This has not, generally speaking been a bad thing.  The kids like a good fire. I appreciate the down time.  We really, really need the water. And it has given Finn endless excuse to play with LEGO, especially his new Power Miners sets.
One day, at breakfast, he wanted to know if the contraptions he built were "real," as in based on things in the real world. "No," I answered, hastily.  "Mines are real, but I don't think the machines look like your Power Miners." But I agreed we could do some research, and lo and behold, the things I did not know about heavy mining equipment. As it turns out, thanks to the magic of Google Image Search, we deduced that, rock monsters aside, nearly every Power Miners vehicle was based, at least in part, on a mining machine: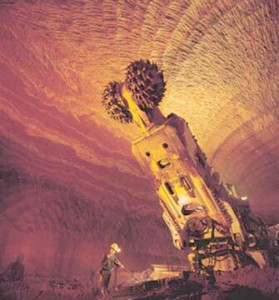 That afternoon, in a desperate attempt to vary his activity, we read Thunder Cake, a really lovely book about a young girl who is taught not to be afraid of thunder by her grandmother. I promised Finn we could make the cake, but he was only interested once I also promised he could use the hand mixer.
Understand, this is a new appliance. For years, I relied on my whisk, baking off the grid, so my little hand held mixer is a great improvement.  But in Finn's hands, the machine was miraculous. A revelation, in fact. It was evidence that cooking was nearly as exciting as lego and underground mining. Oh, the things you can do with machines.
"This is SO. COOL!" he exclaimed. "This is JUST. LIKE. POWER MINERS!" And his glee knew no bounds as he broke up lumps of butter and creamed sugar and generally mixed for as long as I let him.
The cake itself is decent. It's a solid everyday cake, not hard to make, not spectacular, but also easy to eat, as a chocolate cake should be. It's held up well for our cake + milk ritual, and it reminded us that there are really a very many ways to like cooking with kids, not all of them obvious.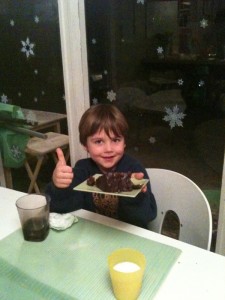 The recipe is here. Bookmark it for the next rainy day.