I blame this dinner, in no particular order on:  Catholic School; the American Girl Doll, Kirsten; St. Lucia; Ikea; the inventor of the "half birthday."
Yesterday was St. Lucia Day, a fact my daughter knows about from I-don't-know-how. It's the only Saint's day really celebrated in Sweden, and it's celebrated with flair, with St. Lucia buns (don' t go there, my husband has already made those jokes), and wreaths of lighted candles on young girls' heads, and processions of girls dressed in white.  Yesterday was also my daughter's official half-birthday. And her one and most beloved AG doll is Kirsten, from Sweden. And both my kids love Ikea's Swedish meatballs. So there was really no debate about what I had to cook for dinner. (Due to a soccer tournament we got out of making the buns.)
So, I pulled out the recipe from Kirsten's cookbook, and in the 45 minutes between the end of the school day and carpool for gymnastics and soccer, I tried to pull it together.  Surprisingly, I didn't quite manage. The mixture came together quickly, but it was a little soft (not quite enough meat. I think), and I didn't have time to fix it or to shape the meat balls. The solution? I dumped it all in a loaf  pan and stuck it in my convection oven at 350 degrees for 1 1/4 hours (it shuts off automatically), left the house, and came home to Swedish meatloaf.  It was actually good. It did actually taste like Swedish meatballs–mild and tender.
The downside: very few drippings for the gravy, so I had to improvise by adding chicken broth. The result was more than passable. The meatloaf was a big hit with the kids. The improvised gravy was big hit, the rye crackers with ligonberry jam was a big hit.  I will leave you with a satisfied doll, who has brought hours of enjoyment to our girl, and now a new dish to our whole family.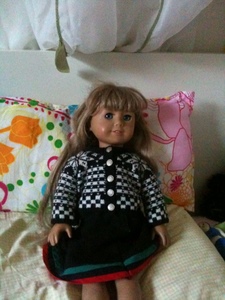 The recipe follows, adapted from Kirsten's cookbook. though you may need to improvise as well.
Swedish Meatballs
2 slices white bread
1/2 cup heavy cram
1/2 cup milk
small onion
1 T butter
1 lb ground beef
1/2 lb ground pork
1 egg
1 tsp salt
dash nutmeg, cardamom, white pepper
2 T oil
1 T flour
1 cup cold water or broth
Cut bread into small cubes and soak in mixture of milk and cream.
Dice onion and sautee in 1 T butter until clear and tender. Let cool.
In a large bowl, mix meats together.
Add bread mixture, egg, salt, spices, and onions and mix well.
Shape mixture into small balls.
Fry meatballs in 2T oil until brown on all sides. Remove using a slotted spoon and set aside.
Turn down heat and whisk flour into pan drippings.
Add water or broth and stir until gravy is thick.
Return meatballs to gravy and simmer on low heat for 30 minutes, or until meatballs are cooked through.