by Lisa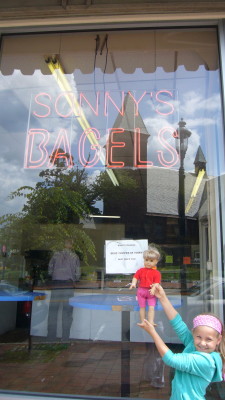 Sonny's Bagels in South Orange, NJ is more an industrial kitchen than a store. The commercial area is a simple slip of counter that supports an old cash register and nine or so metal mesh bins, stacked two high, into which warm bagels tumble all day long: Plain, Sesame, Poppy, Garlic, Onion, Salt, Cinnamon Raisin, Everything, and a dark, dense Pumpernickel.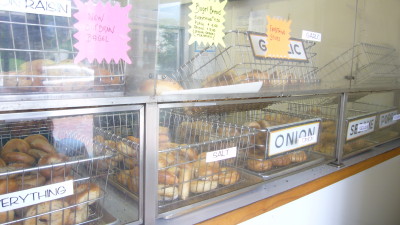 The menu is a simple piece of paper listing quantities of bagels and their cost. Beyond the counter are rows of stainless steel ovens and great vats of water into which the risen dough is plunged for boiling. There are stainless steel mixing bowls and flour-covered work tables. If you want a bagel, a friendly but no-nonsense employee waits impatiently for you to decide which, or how many pumpernickel or salt or just plain you will take today. Then, into the bag they go, so quickly it seems impossible she has counted them accurately. When I was a kid, if we arrived at a peak time, there was always a line stretching up South Orange Avenue, and we would wait for as long as it took for a brown paper bag full of a baker's dozen, or a single bagel, still warm from the oven, wrapped in a square of pastry paper, and we would take our first bite before we had set foot out of the store, because a Watson bagel was that good.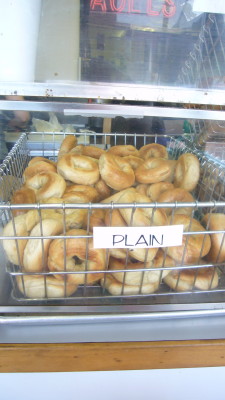 In the 1940's, Watson's Bagels, on Watson Avenue in Newark, served the booming Jewish population of the area. Sonny Amster learned to make the Watson bagel from his father, an immigrant bagel-maker, and he gained partnership in Watson's in the late 1950s. At the time, the bagel making union restricted membership to those who had intimate knowledge of the process, and in this way ensured a de facto union membership comprised of bagel-makers and their sons. Race riots forced the Watson business to move location in 1967, but Sonny's son expanded the business and opened his eponymous store in 1971, as well as others in neighboring suburbs.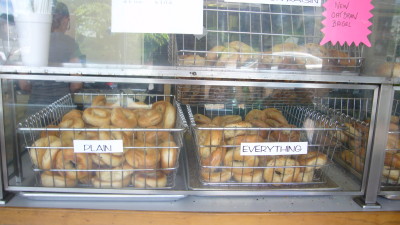 A Watson bagel is hand-rolled from dough made of high-gluten flour, salt, malt, and yeast. It is boiled then baked. Some attributed Sonny's primacy to his brick ovens, others to the high quality and precise chemistry of the local water. (Decades later, my sister met a bagel maker in California who was rumored to import his water from the east coast.) But for the child I was, the magic resided in the fact that hot, perfect bagels emerged from those giant ovens all day long—they were good and abundant. There was a time, at Watson's, when hot bagels could be had 24 hours a day, and when I was a kid, Sonny's bins were stocked with piles of bagels in every flavor my friends and I craved whenever we wanted, 7 days a week. The bins were always full, or being filled, and there was something primordially satisfying about the simple fact of bagels, in plenty.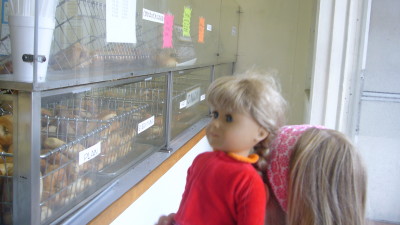 In fact, Sonny's still sells little else: a few bars of cream cheese, a few cartons of orange juice, milk, and cream for coffee. The reach-in refrigerator always appears half-empty. At Sonny's there are no lox, no composed spreads, no butter as at other bagel stores; at Sonny's there was nothing besides the bagel: crisp and tender on the outside, dense and chewy on the inside. Sonny's old world beauty is probably not the product of a deliberate aesthetic, but in the end, it creates one.
And for this, Sonny's is still ritual, for Jews and gentiles and nonbelievers alike. When I was in middle school, if it was a lucky day, a short walk and 25 cents could procure my friends and me a bagel, piping hot and wrapped in that magic square of pastry paper. Then we were independent and worldly, partaking of something both familiar and famous, knowing we had gotten our hands onto something, onto one thing, that didn't exist anywhere else, and it was exactly ours. What more, really, does an adolescent want? Our fingers warmed, our mouths filled with bread, for moment upon moment—over and over again—our hunger was sated.
This trip, as always, we had bagels as many mornings as we could because there are many excellent food things where we live, bagels are (so very sadly) definitely not one of them.  One morning, Finn and I were lucky enough to watch a fresh batch of bagels being pulled straight out of the oven. They went from peel to bin right in front of our eyes, and I plucked one for him, which he ate exactly as I had, with pure delight.
Sonny's is always our last, stop, too, on the way to the airport, so that we can load up our bags with a couple of dozen bagels to freeze. There is something crazy magical about arriving 3000 miles later, utterly travel weary, and then unearthing those bagels from the depths of the suitcase.  There's the bounty to hoard, of course, but also the fact that our clothes smell like bagels, too, and in that moment, Sonny's reveals itself, and the Avenue, and my teenage friends, and my family on Saturday mornings, and now, my son, with his mouth full, and his quiet, contented smile.