I have been cooking a little more these days, and spring is making it easier: new food, fresher produce, etc.   Last weekend I picked up a bag of salmon backs, which are my favorite cut of salmon for their economy, flavor and ease of preparation. And then I found some Mexcian limes, which to my mind make any meal worth eating.  And I came up with these tacos. Citrus marinated salmon, topped with chopped green onion, cilantro, and cumin cream sauce.  We ran out of tortillas, so my husband and I ate them with middle eastern flat bread, which might have been better. They're totally delicious and were a huge hit with the kids, who added guacamole. They'll add guacamole to anything. & really, why not?
These are easy enough to get on the table tonight, just in time for Cinco de Mayo!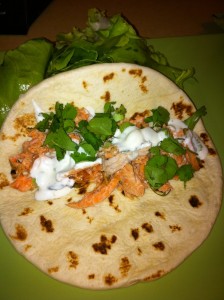 Salmon "ceviche" tacos
serves 4

3/4 lb salmon (1 1/2 lb if you use backs, since there is a lot of bone)
juice of 1 orange, 2 limes, 1 lemon
1 tsp salt
1 stalk chopped fresh green garlic, including greens (or 1 clove garlic or 1 stalk green onion)
soft taco shells
chopped cilantro for garnish
Mexican lime for garnish (if none are available, use regular limes)
cumin cream sauce, see below
Cumin cream sauce
Mix equal parts plain, greek style yogurt with mayonnaise, the juice of one lime, and 1 tsp cumin, a pinch of salt.
Marinate salmon in ziplock bag in refrigerator with citrus, salt, and chopped garlic. for at least 1/2 hour or longer.
Grill or broil until cooked through.
Shred salmon into flakes.
Serve on tacos with cilantro, cream sauce, and limes  for garnish.