I am not so humble about my scallops, which I can cook to perfection in no time, in half a dozen different ways, depending on season and ingredient.  But truly, they're so easy to cook, anyone can do this.
They are, however, one food my kids really don't like–it's a texture thing. They like the flavor well enough, but confronting a pillowy, tender sea scallop on their plate is just too much for them.  Plus, scallops are expensive, so they make appearances in our house as appetizers, or for special occasions, and once in a while the kids will get just one as a side dish.
My basic technique–like so many scallop recipes–involves a quick pan sear, removing the scallops from the pan, deglazing the pan with a seasonal alcohol that will compliment the scallops (think wine in summer, cider in fall….), and serving them over a starch (potatoes are classic, but I've used pumpkin and all sorts of squashes, which can be really beautiful).
This version I made earlier in the summer involves fresh corn, handfuls of herbs, and quickly cooked scallops. If you can get your whole family to partake, they really are a good weeknight dinner because they cook so very quickly.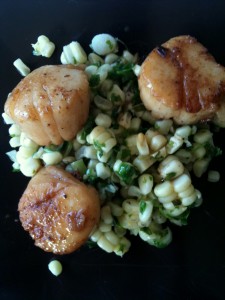 Seared Scallops with Herbed Corn and Prosecco

3 ears fresh corn
a handful of leafy mixed herbs (basil, cilantro, tarragon, parsley–whatever you love, but keep it fragrant)
scallops, figure on 3-4 per person
Prosecco or white wine
butter
Bring a large pot of water to boil, turn off the heat, let cook corn for five minutes.  Remove corn from pot. When corn is cool enough to handle, removed kernals the cob. This can be done several hours ahead of time.
In a large pan, melt about 3 tablespoons of butter, add corn and herbs and quickly toss to coat corn.
Set corn aside on a large family style serving platter, or in a separate bowl. Wipe out pan.
Melt another 2T of butter in pan over medium high heat. When sizzling has stopped, add scallops. Cook for about 2 minutes on each side, but be careful not to over cook.  The scallops should be nicely browned, but not overcooked.  If you poke one with your finger, they should feel tender-firm. Too firm and they're over done.
Remove scallops from pan and set aside on a small plate.
Deglaze the pan with about 1/4 cup of the Prosecco, scraping up any brown bits.
Add a scant tablespoon or so of butter to the pan. When it's melted and sauce is coming together, taste for seasoning.
Return the scallops and any accumulated juices very briefly to the pan, just to heat through.
Serve scallops on top of corn, with a spoonful of the wine/butter sauce.