With summer fair season coming up, and  barbecues and neighborly dinners, I thought this would be a good time to share our latest favorite thing: salad on a stick.  Another recipe straight out of last month's Food and Wine, this one is endlessly adaptable, and it's going to be a regular on our summer table. I served this first for dinner with the Pickled Shrimp, then brought another batch to book club. Both times it was a huge hit, probably because the only thing better than something on a stick is something on a stick with bacon. My kids would eat bacon everyday if they could.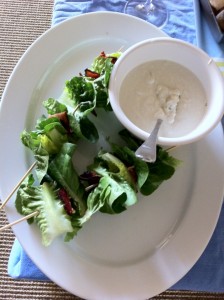 The original recipe is a take on a classic wedge salad:  iceberg, bacon, blue cheese.  The technique is this: spear alternating bites of romaine lettuce and bacon onto a bamboo spear. Serve with homemade blue cheese dressing.  These disappear fast–neither kids nor adult can't resist. The only note of caution: don't overcook the bacon. It needs to be slightly tender so it doesn't crumble on the spear.  I've learned to cook bacon in my oven:  put cold bacon on a foil lined try into a cold oven. Turn to 350 degrees and bake for 12-17 minutes, until ends start to curl and bacon reaches desired cripsness.
Not surprsingly, blue cheese is not a big hit with the kids. So they used ranch dressing instead of blue cheese.  But if you like blue cheese, try this recipe. It's pretty great. Try it.
Also exciting: you can vary this recipe endlessly: use fresh Thousand Island dressing, cherry tomatoes, mini cucumber spears, green onions, mushrooms, peppers–anything you can put in a salad that you can spear is fair game for the skewer.  Plus: these spears keep and travel beautifully, and there's no need for forks.
Imagine the possibilities:
romaine,+ provolone + pepperoni + pepperoccini+ red pepper + red wine vinaigrette=classic Italian-American antipasto on a stick
Cherry tomatoes + mini-mozzerella balls + fresh basil leaves + balsamic vinagrette=Caprese on a stick
Celery + carrot + romaine or iceberg leaves +  Thousand Island=crudite on a stick
Mozzarella +roasted red peppers + marinated artichokes
Tomato + Watermelon + feta + red wine vinagrette
shrimp + romaine + green goddess dressing
Blue Cheese Dressing Recipe is here.
We'd love to hear your ideas below! Happy grilling!