by Lisa
(update 12:14 PM/PST, because I forgot about the zest….)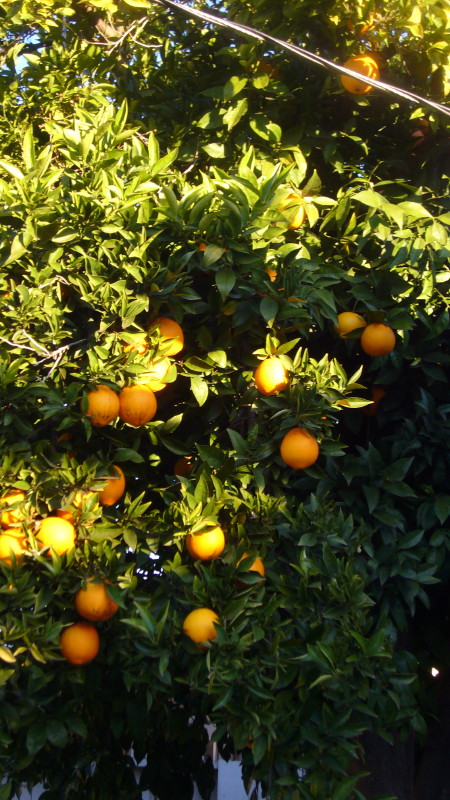 Some things are born not so much of necessity but of the inspiration from what you have on hand.  I roast a lot on winter weekends: chicken,  pot roasts, braised pork butt.  I discovered a few years ago that to my very great surprise, I was  good at it, and with a little thought and prep time, one could turn out a really great meal that made the house smell terrific and also feed a small army or provide great leftovers for a rushed night later in the week.
Last weekend, I had a chicken to roast, but wanted to do something new.  One of the standards, of course, is to stuff the cavity with lemon, then rub the skin with salt and an herb butter, often thyme or rosemary.  I'll often finish with paprika, because it adds great color, and a squeeze of lemon juice for extra browning.  Good, right?  But something was restless in my culinary subconscious, and while we have abundant lemons on our tree right now, it was our bountiful orange tree, right outside our door that called to me.   I decided, I would substitute citrus and herb and mix it up (exciting, huh?) and make an Orange Oregano Roast Chicken, because that's what we had growing in our garden.
It was easily and by far the best chicken I've ever made.  Even I was surprised by the result of my experiment.  And while roast chicken is not fancy, it can be a perfect and really delicious family meal.  And if you want to do a themed, seasonal, citrus meal, you can try the blood orange tart posted over on Smitten Kitchen.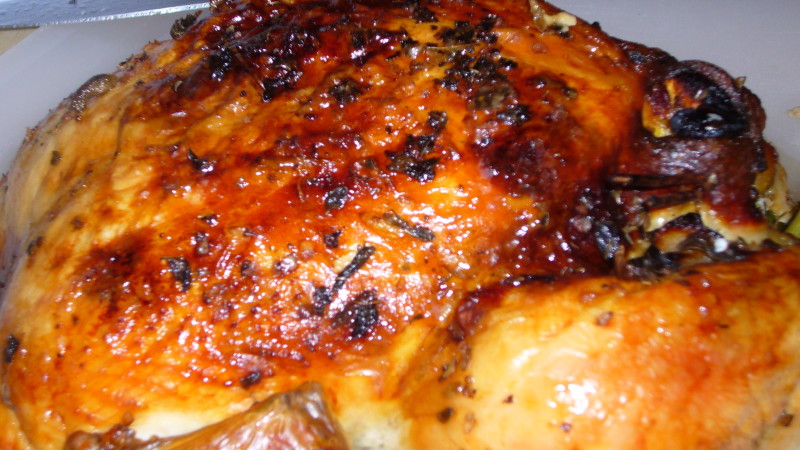 If you do eat chicken, please make sure to buy a chicken that is organic, free range, and comes from a farm where you know exactly what the conditions are for the birds. If you're not careful about how you source your chicken, you really do run the risk of supporting a farm that does unspeakable things to birds.
Here's what I did for a 4.25 lb chicken:
I had Kory bring me 2 large oranges while I cut a few long sprigs of oregano from our bush.
I cut one orange into 8 pieces. I zested the other.
I cut 1/2 a red onion into 4 small pieces (the better to wedge them into the chicken cavity).
I generously salted the chicken's cavity.
I stuffed the cavity with several pieces of orange and the red onion, and several long sprigs  of oregano.
I carefully slipped my hand under the skin of the chicken and separated the skin from the meat with my hand. This is not hard to do, and is a technique we often use with turky.  I rubbed several tablespoons of softened butter (yes, it's a lot of butter), all over the breast, thigh, & leg meat, and then rubbed the orange zest right over that into the butter.
I sprinkled dried oregano (also from our yard) all over the outside of the chicken.
I salted, generously, the skin (on the outside).
I squeezed a generous portion of orange juice from the fresh orange over the skin.
I trussed the chicken. For me, this is essential. I'm sort of neurotic about trussing & it gives me great satisfaction.
I placed around the chicken lots of quartered red and white onions, potatoes, and carrots.  These I salted, drizzled with olive oil, and few more  squeezes of orange juice.
I roasted at 425 degrees for 20 minutes, then turned the heat down to 375 and roasted for about an hour longer, until the juice from the cavity ran clear.
The chicken was done a little before the vegetables, so I removed it and let them roast a little longer.
Then I poured off the drippings, separated off the fat, and deglazed the roasting pan with a little bit of white wine, added back the drippings, about a 1/4 cup of water, and swirled in about a tablespoon of butter and, presto, a fast, delicious pan sauce.
While you're carving, if the kids are clamoring treat them (or yourself if there aren't kids in your house), to the tender nugget of meat on the bottom of the chicken.  You can just pop it out of the small cavity with your thumb. The two "oysters" are the best part of the bird, and it was great when we had only one kid top treat and I got to eat the second oyster. Oh well. Motherhood is about sacrifice, right?
But everyone loved the chicken proper, and it made a great pot pie later in the week.   Which is a post for another day.