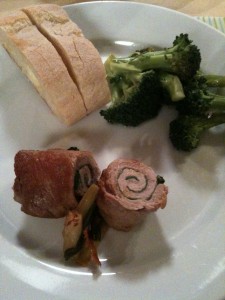 It's been a week of experimenting here in the kitchen and not all of it has been successful.  The carrot mostarda was too sweet, the celery root carpaccio too salty–but the pork involtini were delicious–fast, easy and a huge hit with everyone.
I was inspired by my new issue of La Cucina Italiana, which is a favorite food magazine. The recipes are often too involved and time consuming for a weeknight, but a girl can dream…
Involtini is a technique which involves pounding a meat until it is very thin, then rolling it around some delicious filling, then securing the pretty little bundle with a toothpick. The rolls are browned, then quickly braised, then sliced into pinwheels for serving (or not). This recipe involves only 3 ingredients (+ olive oil and salt), and you can make the rolls ahead of time and refrigerate them until it's time to cook. They cook in just a few minutes–enough time to steam some broccoli, sautee the rest of the chard, and warm some garlic bread in the oven.
They are adorable. The kids were charmed by them. Just this once, I let them eat with their fingers so the rolls stayed intact. They dipped the rolls in a country mustard, which isn't necessary, but is pretty good.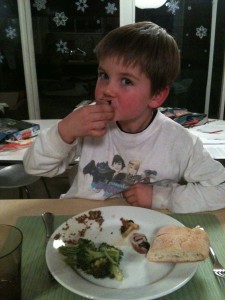 Pork Involtini with Swiss Chard
1 lb pork tenderloin
4 large leaves Swiss chard
12 scallions, white and light green parts only
salt
olive oil
Special equipment:  toothpicks
Cut white stems and ribs off the chard, so you have only the leafy green part.
Cut the tenderloin into 4 equal pieces.
Using a rolling pin or meat tenderizer, gently pound the cutlets into very thin cutlets, about 1/4-1/8 inch thin.
Lightly salt both sides of meat.
Lay a single layer of chard leaves over each cutlet.
Beginning with narrow end, roll up each piece of meat and secure with toothpick.
In a large pan over high heat, with a few tablespoons of olive oil, brown rolls on  all sides.
Add 2-3 tablespoons of water, the scallion.
Lower heat. Cover and cook until pork is cooked through, about 8 minutes.
Slice the rolls to your liking, remove the toothpicks, and serve with pan drippings.