posted by Lisa
We love Plantation Gardens, where we stayed last year for a week. The condo was extremely pleasant, but the real revelation were the grounds and the restaurant, which is one of the best places we've found to eat out on the south shore of Kauai.
The Moir gardens, which border the restaurant are spectacular–hundreds of orchids in bloom…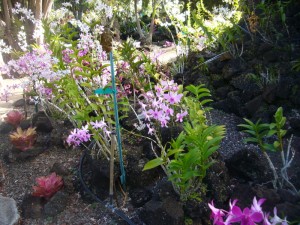 and long paths to walk before and after dinner. Here, it's not just about the food, but about where you get to eat the food: on a spacious lanai, in the middle of lots of cultivated, lush beauty. It's clean and modern, but has clear ties the long history of the plantation and surrounding gardens and old Kauai.
This was one of the very few times we eat out during our vacation, so there was some ceremony to it. We dressed up. We made sure we were all hungry. We booked an early seating so that the kids would be in good spirits and we would get a seat on the lanai.
Ella and Finn , newly introduced to pu-pus and the glories of Shirley Temples, were festive when we arrived. They were excited and eager to sit down and eat. They understood what was expected of them regarding manners and appropriate behavior. Kory and I had looked forward all year to the sweet li hing mui margarita,
with li hing mui powder on the rim, mixed with salt. For my money, it's the perfect island drink. Maybe the perfect drink period.
We ordered our drinks, a lilikoi lemonade for Finn and a Shirley Temple for Ella, and we waited for our appetizers.
The kids drinks went down fast.
Which is I guess what happens when you're soda-deprived 310 days a year.
Thankfully, the appetizers came right out and were were excellent. Ella had choosen pot stickers, which are a staple for her at any restaurant with even a whiff of Asian influence.

Finn was adamant about imperial roles, which he had discovered a few days earlier.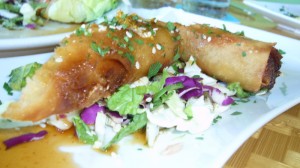 And Kory and I ordered the kalua pig lettuce wraps because they just looked too good to pass up. And they were. Normally, we'll share one, or two very small first plates.
However.
They finished their plates.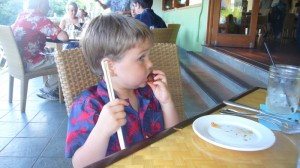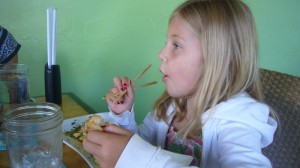 And even though, on this one particular night, they had great manners, mostly used appropriate implements instead of fingers, made good conversation, ate with gusto and great appreciation, and generally functioned like little humans and not the beasts-at-the-table that they can sometimes be, still we had a problem. Because of course, they were no longer especially hungry, and we still had dinner coming.
Plantation Gardens' has an excellent practice of NOT offering a printed children's menu. So Ella and Finn had no idea they were missing out on the chicken nugget-thing when they were brought their small plates of rice, grilled opa, and a sweet, coconut milk fortified sauce on the side. They didn't touch the sauce, but they did muscle and squirm their way through some of the fish and a bit of the rice. It was a struggle though, and not so much fun, even though the fish was quite good. And this was entirely our fault. Too many pu-pus.
I had the same fish as the kids, and it was sweet and rich and filling, even for me. Kory chose more wisely, the much lighter ahi, and it was superb.
Of course, the three sugar fiends wanted dessert.
There was really nothing about the dinner that was done in moderation. Especially not the second margarita.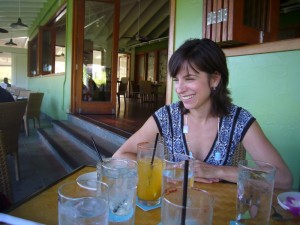 But after we walked in the garden until it was dark, looking at plants, searching for the nocturnal toads which squat like sentinels all over the grass and paths. The kids love them. We love that the kids love them.
We loved our dinner. And we'll do it again. A little differently.