I found this recipe watching one of the 13 episodes of Lidia Bastianich's television show, Lidia's Italy, taking up space on my tivo, and it's exactly the reason why I love her & her show.
I had never heard of panelle, nor could I have made this up. It's a regional street food of Palermo and it is unusual for an American kitchen but it's one of the most fun, satisfying and delicious things I've come across in a while. It's also sort of addictive.
Basically, panelle is fried chickpea polenta made from chickpea flour, water, olive oil, and salt served on fresh sesame bun.  You cook the polenta, pour it onto a baking pan, then refrigerate it.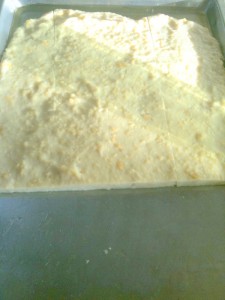 Then you cut it into small squares and fry in olive oil.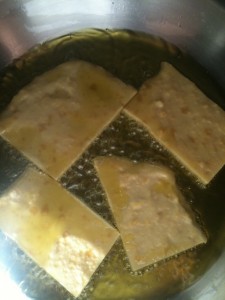 That's it.  I've made it twice now, so I know that the kids enthusiasm for it is no fluke. They love it. We love it. It's one of those things that when, they ask "What's for dinner?" and I say "panelle," they cheer. And not just because they get to watch baseball while they're eating it.
Panelle is an easy, healthy, high protein, fun, vegetarian dinner. It makes great leftovers.  And it's a simple, no mess, satisfying food that 's perfect for eating in the living room while your baseball team battles it out for the pennant. Add salad, dessert, a festive beverage inspired by your team, and you're set.
It takes a bit of planning because the polenta needs to chill for at least an hour, and frying anything can be a little messy, but it's basically a simple and stress free process. Below is the recipe taken exactly from here, which is exactly what I saw on TV.
Panelle
4 cups water
1/2 lb chickpea flour
1/4 cup olive oil
1 tsp. salt.
A rimmed baking sheet, rubbed with olive oil.
***NOTE:  Chickpea flour is available at my local Italian deli, and it may well be available at yours.  Try specialty stores, well stocked markets, and if you can't find it, you can make your own by grinding dried chickpeas into a very fine, well, flour.***
In a heavy bottomed saucepan, whisk chickpea flour into water, olive oil, and salt. Try to get it as smooth as you can.
Over medium high heat, cook chickpea polenta until it thickens and pulls away from the sides of the pan as you stir.
Quickly pour the polenta into the baking sheet and with a wet, offset spatula or knife, spread smooth. The polenta should be fairly thin and in a smooth even layer.
Refrigerate for one hour or over night.
Cut the panelle into squares, about 3 x 3 for sandwiches.
Pour enough olive oil into a frying pan to cover to about 1/8″ depth, and fry pieces until they are golden brown. They will puff slightly.
Drain on paper towels and serve on fresh, soft, untoasted plain old sesame buns. Adults can eat 2 panelle per sandwich, the kids will eat one larger one.