I had bought some old fashioned Valentines for the kids–you the kind, with tabs and wheels and adorable kids and kittens and doililes and flocking–but they both took one look at the book and balked. No way was Ella giving those out to the boys in her class. Finn felt pretty much the same.  And, so, over the last month, they painstakingly crafted their own valentines. Ella made 3 dozen felt fortune cookies and inserted "fortunes"  like, "If the unicorn you see tomorrow is wearing a hat, you'll have bad luck" and "If you wear mismatched socks on Friday, you'll make a new friend."  She packed them in mini-takeout boxes.
Finn designed and drew a notecard…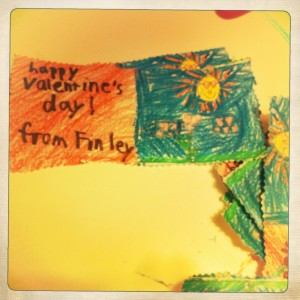 & over the course of 2 days painstakingly cut out his notes with a pair of broken pinking shears…
Ella helped him decorate little red bags….
& I made 6 dozen marshmallows. Which is easy, unless you have a lousy hand mixer…in which case, it is a labor of love…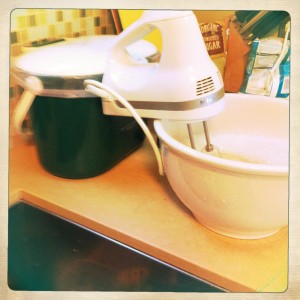 but they helped with the fun part…
&  set up an assembly line, &  packed bags and boxes with pink peppermint marshmallows & much affection…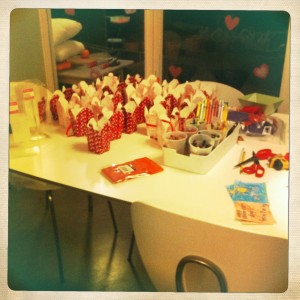 and all manner of things…well, on this day, with this project…they were well.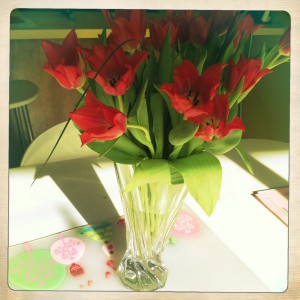 Pink Peppermint Marshmallows
Nonstick vegetable oil spray
1 cup cold water, divided
3 1/4-ounce envelopes unflavored gelatin
2 cups sugar
2/3 cup light corn syrup
1/4 teaspoon salt
1 teaspoons peppermint extract
red food coloring
1/2 cup powdered sugar
Line 13x9x2-inch metal baking pan with foil. Coat foil lightly with nonstick spray.
Pour 1/2 cup cold water into bowl. Sprinkle gelatin over water. Let stand until gelatin softens and absorbs water, at least 15 minutes.
Combine 2 cups sugar, corn syrup, salt, and remaining 1/2 cup cold water in heavy medium saucepan. Stir over mediumlow heat until sugar dissolves, brushing down sides of pan with wet pastry brush.  Increase heat and bring syrup to boil. Boil, without stirring, until syrup reaches 240°F.
With mixer running at low speed, slowly pour hot syrup into gelatin mixture in thin stream down side of bowl (avoid pouring syrup onto whisk, as it may splash). Gradually increase speed to high and beat until mixture is very thick and stiff, about 15 minutes. Add  peppermint and food coloring until desired color is achieved and blend, about 30 seconds longer.
Scrape marshmallow mixture into prepared pan. Smooth top with wet spatula. Let stand uncovered at room temperature until firm, about 4 hours. Turn our on a large cutting board sprinkled with sifted powdered sugar
Coat a pizza roller or sharp knife with nonstick spray and cut  marshmallows into desired shape.  Sift powdered sugar over marshmallows and toss to coat.