I tried this recipe because in the middle of cooking a run-of-the-mill dinner for my kids last week, I got a text from a friend with a cooking question. I responded & asked what she was cooking. She told me she was trying to cook like Giada. I responded I wanted to look like Giada.   That is not going to happen.
But the chicken did happen, in both our homes, and with good results. These are basically a version of chicken "nuggets" rolled in mixture of polenta and rosemary and sprinkled with lemon rosemary salt. They're nicely crispy, great at room temperature, and appealing to kids without being too familiar.  It's a fast, good weeknight chicken recipe. Next time, I might experiment with baking these, since frying can be messy & I hate the clean up.
The kids liked it, the book club liked it, and we even liked it leftover as a little  side dish of protein for a composed salad (with Boston lettuce, cilantro, cucumber with olive oil and white balsamic)
It was a busy week and I forgot to take a picture, but you can trust me that it's an appealing looking dish.  For the visual, today, in honor of Giada, here's the closest thing I have a to a glamour shot, taken by the amazing Lisa Johnson, Rock Photographer, in case, you know, one of those glossy magazines comes calling.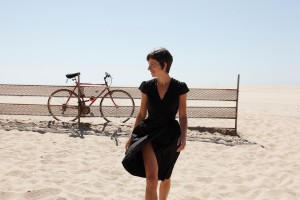 But seriously folks, try the chicken. And be sure to make extra salt: it's great on salads. Or popcorn.
Crispy Chicken with Rosemary-Lemon Salt
Vegetable oil for frying
Salt
1 (6-inch) sprig fresh rosemary
1/4 cup kosher salt
Zest of 1/2 large lemon
Chicken
1 pound chicken tenders, cut into 2-inch pieces
2 cloves garlic, minced
1 1/2 tablespoons chopped fresh rosemary leaves
Zest of 1/2 large lemon
3/4 teaspoon salt
1/4 teaspoon freshly ground black pepper
1/2 cup fine cornmeal or instant polenta
For the salt: Heat 1/4-inch of oil in a large, high-sided skillet over medium-high heat (the oil is hot enough when a pinch of cornmeal sizzles when added to the pan). Add the rosemary sprig and fry for 30 seconds until crisp. Using tongs, remove the rosemary sprig and drain on paper towels. Remove the leaves and finely chop to yield 1 tablespoon. Place the rosemary, salt and lemon zest in a small bowl. Mix with a fork until combined. Set aside.
For the chicken: In a medium bowl, mix together the chicken, garlic, chopped rosemary, lemon zest, salt and pepper. Add the cornmeal and toss until the chicken is coated. Add 1/2 of the chicken to the same skillet used to cook the rosemary and fry for 2 to 3 minutes each side until golden and crispy. Drain on paper towels. Repeat with the remaining chicken. Sprinkle with the rosemary-lemon salt and serve.
Yield: 4 servings
Prep Time: 10 minutes
Cook Time: 5 to 7 minutes