The Valentine's Day lollipops were a disaster. Two recipes, three flavors, three batches, nearly 150 suckers later, and not a single one came out right. They were pretty, but not so tasty, and didn't harden. They're not a good activity for kids because well, candy is really hot.
So, on February 13 we were stuck.  We had valentines, but no treats, and nearly 5 dozen kids to take care of.  And so we made something starts out very sticky which saved the day and which I suspect will not only be our Valentine's Day go-to treat but which will grace our table regularly over the coming year.
Homemade marshmallows are really easy and fun to make and really delicious–and versatile. Once you get the basic recipe down you can add any flavoring you like:  think beyond peppermint, which is certainly a good choice: to lavender, coffee, orange blossom, lemon or zest, coconut, almond, rosemary…if you can find the extract or steep the herb in the sugar syrup, you can make a marshmallow flavor with it.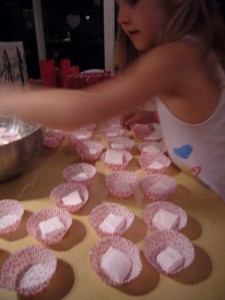 I used  this recipe on Epicurious, added red food coloring, and used only confectioner's sugar for the final dusting.  I heated the sugar syrup, but with careful pouring, Finn manned the hand mixer for quite a while.  You should beat the mixture until it's really, really thick, probably longer than you think you need to. Then you spread it in the pan, wait and cut. I used a pizza cutter sprayed with nonstick cooking spray.  The actual "baking" takes maybe 20 minutes, so while it will take several hours from start to finish, the active time is minimal.
The kids filled the bags assembly-line style, and we had enough left over to bring to a party on Sunday, where the adults probably ate as many as the kids. They're that good.