by Lisa
Halloween and Thanksgiving are long past, but today, some beast grabbed me and urged me to cut into the Galeux d'Eysines pumpkin I purchased in October. It was a gorgeous pale pink, and covered in sugar warts. It was gnarly, ugly and completely fascinating.
It was easy to cut, as far as pumpkins go but inside, it was shocking orange.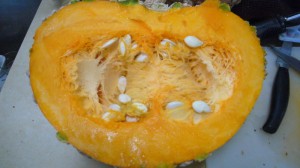 Finn and I scooped the seeds, and because Caroline has just leant me Little Heathens, I decided to slice it, peel it, chop it into two-inch pieces, and slow cook it per Milly's strict instructions, with just enough water to see through the pumpkin.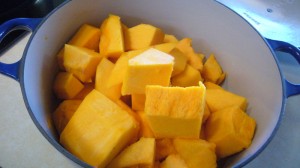 It cooked all day, very slowly, from about 9 am until 6 pm.  I had a beautiful, rich, perfectly smooth and perfectly pumpkin puree.
I kept tasting, and while the flavor did get richer and sweeter as the day went on, It's a mild, sweet pumpkin, and tastes like a pumpkin wants to taste if it's very refined.
The question was–what to do with all of it. Ravioli on a weeknight was out of the question. I'll make pie tomorrow, but wasn't up for baking today. I settled on Pumpkin Risotto, substituting a hard apple cider for the classic white wine, adding grana padano, nutmeg, and butter to finish.  It was glorious. My daughter, after her first bite, declared, "This is the best thing I've ever eaten in my life."  Her friend, Cassie, who had a taste on the way home from her playdate also declared it delicious. Finn was not as big a fan, but he'll grow into it.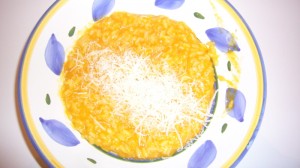 Pumpkin Risotto
1 medium onion, chopped finely
2 cloves garlic, finely chopped
1 1/2 c arborio or–better–carnaroli rice
3/4 c hard apple cider
about 6 cups chicken broth
Fresh pumpkin puree, about 1-1/12 cups
fresh grated nutmeg, to taste
about 1 cup fresh grated Grana Padano (available at Trader Joes)
Heat broth in a separate pan until medium hot.
In a heavy bottomed pot or large sauce pan, sautee garlic and onion until soft.
Add rice and stir until well coated.
Add cider and stir until most of liquid is evaporated.
Add stock, about one cup at a time, stirring after each cup until broth is absorbed. Continue adding warm broth until the rice is cooked through. It should be tender, but each grain separate.
Add enough pumpkin to brightly color and flavor and risotto, to your taste.
Add butter, a grating of nutmeg (to taste), and cheese. Stir until absorbed.
Serve immediately, with an extra grating of cheese. And some fresh or fried sage leaves if have them.