By Lisa
I used to make fresh pasta a lot. As in once a week. Before kids, or when Ella was very little, it was easy to whip up a batch of fresh pasta for dinner, even for a first course. Fresh, it's like nothing else in the world, and I even got good at making the right kind of pasta for the right dish.  Wide paparadelle for a fresh olive oil emulsion, fettucine for alfredo, lasagna noodles for a casserole with bechamel, spaghetti for ragu, orichetta for broccoli rabe and sausage, raviolis and tortellini, even bite-sized, whisper thin sheets that encased a single spray of tarragon, or a tiny basil leaf, etc. With practice, it became a very easy thing to do and I had a nice wooden kitchen table at which to work.
Then, I had a new baby, and then a new home with a really terrible tile counter on which it was impossible to roll pasta.  Our new kitchen table was similarly unsuitable.  A few years passed, and while we got a new countertop pretty quickly, aside from a few batches of pumpkin ravioli, it took a while to work the past back in to any regular rotation. But back it is, and I can say now, that I am really sorry it ever went away, even briefly.
It can take a little time to master, and more time to master efficiently, so you're not spewing flour everywhere and making for an unpleasant and lengthy clean-up, but if you stick with it, you get better fast, and it's not hard and not messy.
It's also one of the most fun things–hands down–you can do with a kid in the kitchen.  In fact, it can make a great play date if you're game.
I like the old fashioned method of mixing the pasta and eggs:  I dump the flour on the counter, make a well, and break the eggs right into it. With a fork, the eggs get beaten, and the flour is slowly incorporated into the egg, a little at a time.  The kids love this bit because it looks so, well, risky. No bowl!  What a mess! The thing is, it's not messy, and the dough only takes up as much flour as it needs.  Certainly, you can dump the flour and eggs into your Cuisinart/food processor and mix it up until it rides the blade. But sometimes this produces an overly dry dough (say, on rainy days).   It's not fool proof. The counter method is.
The ratio, straight out of Marcella Hazan's Classic Italian Cooking which is no longer in print:
1 egg to every 3/4 cup all-purpose flour
For 3-4 people, use 2 eggs + 1 1/2 cups flour
For 5-6 people use 3 eggs 2 1/4 cups flour
For 7-8 people, use 4 eggs, 3 cups flour
You can be brave and roll your dough by hand, or once it's mixed, finish the kneading by passing it through your pasta machine until it's very smooth, then keep passing it through until it's the right thickness.  Then, you cut as needed.  A good machines will cost you about $70 at William Sonoma. I bought mine for  $50 the minute we got back from our honeymoon in Italy ten years ago, and it was money very well spent.
The kids adore the machine.
This night, Finn rolled most of the pasta…
and he cut most of the pasta….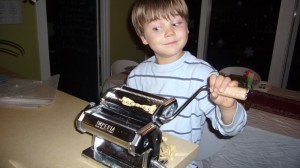 and he was very pleased with his work…
The cream sauce is really fettucine alfredo, but if you haven't had it this way, with fresh pasta you really haven't had it in its most fundamental, most extraordinary form. This recipe will make you realize why people go nuts for this dish, when all you've ever had is, well, a rich, flavorless, goop.
This recipe is fast enough for a weeknight if you've frozen your fresh pasta so it's ready to go, and elegant and delicious enough for a dinner party or first course. You will never, ever tire of it in the cooler months.
Again, right out of Hazan:
Fettucine with Butter and Cream Sauce
1 cup heavy cream
3 T butter
2/3 cups freshly grated parmesan
freshly ground pepper
a very tiny grating fresh nutemg
Fettucine, made w/3 eggs
In a heavy pan, that can later accomodate all the cooked pasta, heat 2/3 cup cream and butter and simmer over medium heat fro less than a minute, until the butter and heat have thickened.  Turn off the heat.
Cook the fettucine in a large pot of well-salted boiling water. They will take only a few seconds-1 minute to cook after the water returns to a boil. Drain immediately and thoroughly and transfer to the pan containing the butter and cream.
Turn on the heat under the pan to low, add the remaining 1/3 cup cream, all the grated cheese, 1/2 teaspoon salt, pepper to taste, and nutmeg.  Toss briefly until the cream has thickened and the fettucine are well coated. Taste and correct for salt.  Serve immediately from the pan, with a bowl of additional grated cheese on the side.
If you do something like this, and serve it from a serving dish, get it to the table and onto plates immediately. Say grace after dinner.
After eating this, you'll want to.