by Caroline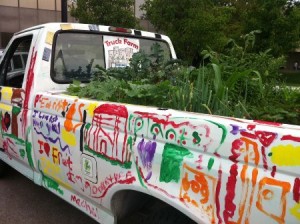 Years ago, Lisa wrote about her friend's farm on a truck; now from the folks over at Good, this news about a roving educational farm on a truck!
"A literal 'food truck,' Truck Farm Chicago is a nonprofit organization that uses a 1994 Ford F-250 named Petunia to chauffeur a miniature farm. …While Truck Farm Chicago is one of about 20 truck farms sprawled across the nation, it's set apart by its focus on educating Chicago youth and families about healthy eating. Visits to the truck typically last an hour and consist of a short tour of the farm, plant identification, taste tests, and sensory exploration. Off-truck activities include planting a seed in a newspaper pot to nourish at home and painting their favorite lessons straight onto Petunia."
Read more about it — and see more pictures — over at Good.