posted by Lisa
We love shave ice.
Finn loves red and green: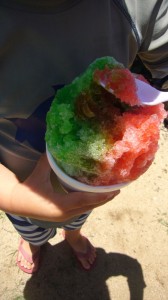 Ella loves cherry, coconut, & li hing mui: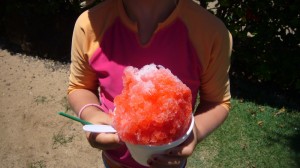 Kory likes mango, passion fruit, guava: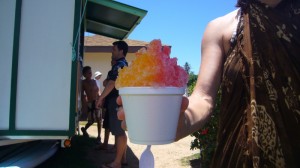 I like it all. Especially with ice cream at the bottom: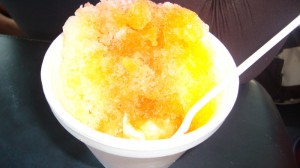 For the most part, there are few desserts or sweet things I crave. The rest of the clan feels differently. And so do I when it comes to shave ice.
It's one of the best food things about Kauai, and we have it pretty much every day. At around $3.50 a piece, it's not a cheap habit, so we usually forgo the add-ons, including ice cream at the bottom, which is pretty wonderful, but which we reserve for a few select days when we just can't hold out any longer.
Shave ice is not a snow cone. It might be what a snow cone aspires to be in nirvana, or what a snow cone remembers as the shadow of its most perfect, platonic form.
When it's done right, shave ice is a large cupful of ice, shorn off a large, flat, wheel of ice into impossibly fine bits by a machine with a very sharp blade. The machine basically looks like an industrial drill press from your high school shop.
And the syrups–well, let's just say the flavors, at the best places, are beyond compare. They have everything from bubble gum to guava: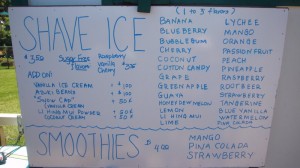 Some shave ice joints are separate parts of stores. Some are carts on the roadside. Others operate out of trucks.
Our go-to cart this year was Da Opu Kaa, The Stomach Cart. It was close to our condo and the ice was fine and the flavors nice. It's not the best ice on the island, but it's pretty darn great.
Sadly, she's closing up cart at the end of the summer, and not relocating anywhere on the South Shore.
As with any love story, there's always an unrequited love. For us, that would be the Wishing Well.
We found this truck on our first trip, five years ago. It sits by the side of the road on the way into Hanalei, and it is astounding. More flavors, better flavors. It was so good the first time, that we sat in our car after finishing, and then instead of pulling away, got in line for another one.
And that was the last time we had shave ice at the Wishing Well.
We've been back 5 times since then, to no luck. Last year, twice, we arrived too late, and she was out of ice. Once it was Monday. The posted hours are noon-5, Tuesday-Sunday. Supposedly.
This year, we tried on our first Saturday, a sort of rainy day, and we hung around until 1 pm. No ice. Later in the week, we went after our day at the beach, and actually left the beach early, to get there by 3:45. We pulled in, saw a little crowd, grew hopeful. Gleeful, in fact.
But no ice. I was so mad, I forgot to take a picture.
We contented ourselves at Shave Ice Paradise, which is very good, but not quite as glorious. They make a great rainbow:
Perhaps, like any pathetic rejected lover, we'll keep going back to Wishing Well. If she'll have us. If not, well, we'll always have the South Shore.