by Lisa
A few weeks ago, Ella bit into her corn on the cob, and before she had even set it back down on her plate declared, "I love summer."
Like most, we love corn here and eat it as often as we can while it's in season. Purist that I am, we usually don't do anything more than a quick boil or grill and  then serve it with butter.   But  a few years ago this recipe was published in our my & Caroline's Gourmet and it was an immediate hit with everyone.  This dish involves your good friend, the egg, butter, corn, and chives. It turns out a light, puffed, sweet and tender omelete,  loaded with fresh corn.  It works as a main course, which is how we usually eat it, a side dish, or even an elegant first course. It's great right out of the over or at room temperature (potluck or lunch party anyone?).  I've served it many times to guests, who rave.  The kids could east the whole thing themselves. And while we're still in corn season out here, I think you could easily substitute a few cups of frozen corn if the crop near you has already waned. It's a good way to keep a burst of summer on your plate.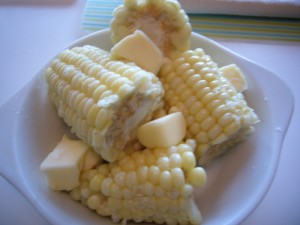 Puffy Corn Omelete
The original recipe is here. I modify the process slightly so it uses fewer bowls and a pie plate instead of a skillet, which I've found makes clean up a little easier. Also, you can skimp on the butter, but it definitely is better if you don't.
3 ears of corn, husked
4 1/2 tablespoons unsalted butter
1/2 teaspoon salt
1/4 teaspoon black pepper
4 large eggs, separated
1 tablespoon finely chopped fresh chives
Put oven rack in middle position and preheat convection oven to 350°F.
Add corn to a 4-quart pot of boiling water , then remove from heat and let stand, covered, 10 minutes. Drain and, when cool enough to handle, cut kernels from cobs with a sharp knife into a bowl, then scrape cobs over bowl to extract "milk." Scrape into a large bowl.
Melt butter in a 10-inch ovenproof pie plate  (I use a glass one, set right in the microwave) and remove skillet from heat, then transfer 3 tablespoons melted butter to bowl with corn (leaving remaining butter in skillet to cool).  Toss corn to coat and stir in 1/4 teaspoon salt and 1/8 teaspoon pepper.
When the corn is cool, whisk in the egg yolks with remaining 1/4 teaspoon salt and 1/8 teaspoon pepper in a large bowl until combined.
Beat whites with a pinch of salt in another bowl using an electric mixer at medium speed until they just hold stiff peaks. Fold one third of whites into yolks to lighten, then fold in remaining whites gently but thoroughly. Gently fold in corn mixture.
Spoon mixture into pie plate and bake until pale golden and set, 10 to 12 minutes. The omelete will puff nicely as cooks.  Loosen omelet with a heatproof rubber spatula and slide onto a plate, or cut and serve directly from the pie plate. Serve sprinkled with chives.