By Lisa
My Christmas table wouldn't be complete without a chocolate roulade, which my sister calls a giant ho ho, or giant yodel, and she's right. But it's  delicious, and deceptively easy to make. I've been making this recipe for about 8 years, though the recipe has morphed into its current incarnation.
I start with Jacques Pepin's chocolate roulade, swap out the cognac for Frangelico, add finely ground, roasted hazlenuts for crunch, a chocolate glacage, and–this year–tempered chocolate leaves and merengue mushrooms. Ella added the fairies, which looked better in person than in the pictures I let my husband take.
This only seems like a lot of steps. The cake is really, really easy to make. It's also flourless and has a rich, decadent texture. Try it on New Years Eve, or for your birthday, or your next potluck.  You don't even need the extras (including the glacage) for a really stunning dessert.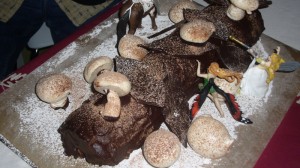 Chocolate Hazlenut Roulade
Serves 10 to 12
Roulade
1 tablespoon unsalted butter, for pan
2 cups heavy cream
8 ounces bittersweet chocolate, coarsely chopped
7 egg whites, room temperature
3 1/2 tablespoons granulated sugar
1 tablespoon cocoa powder, plus more for garnish
1/2 teaspoon pure vanilla extract
1 tablespoon Frangelico
Glacage
6 oz heavy cream

6 oz bittersweet chocolate, finely chopped
2 oz butter
Mushroom Merengues
1/2 cup egg whites
1 cup sugar
1 tsp. vanilla
Extra chocolate for tempering leaves; edible leaves to use as "molds"
Confectioners' sugar &/or cocoa powder, &/or woodland fairies & sprites from your daughter's collection
Make the Roulade
Preheat oven to 350 degrees with rack in center. Butter an 11-by-17-inch jelly-roll pan or a 12-by-17 1/2-inch sheet pan, and line with parchment paper.

In a small saucepan, heat 1 cup cream to a simmer. Add chocolate, reduce heat, and whisk until chocolate is melted. As soon as mixture is a uniform dark color, remove from heat and let cool for a few minutes.

In a large bowl and using a hand mixer, whip egg whites and 2 tablespoons sugar to stiff, glossy peaks, about 1 1/2 minutes. Whisk one-quarter of the egg-white mixture into the chocolate mixture. Gently fold chocolate mixture back into the original egg-white mixture, and mix until smooth and well combined.

Pour batter into the prepared pan, and spread it in an even layer with a rubber spatula. Bake until cake is set and puffy, 10 to 12 minutes. Transfer to a wire rack, and cool to room temperature. Lift parchment paper to remove cake from pan, and set it on work surface with long side facing edge of table. Using a fine-mesh sieve, lightly dust cake with cocoa powder.

Make the creme chantilly: Whip the remaining 1 cup cream with the remaining 1 1/2 tablespoons sugar, the vanilla, and Frangelico.

Sprinkle the roasted hazlenuts in a thin layer over the cooled cake.

Spread the creme chantilly evenly over entire surface of cake.

Roll the cake lengthwise, starting at a point 2 to 3 inches over the creme chantilly. Roll cake another few inches, pressing against parchment paper to make a tight spiral. Gently peel parchment paper off as cake layer rolls away. Complete the roll, stopping at the far edge of the parchment paper. Tuck the loose parchment paper around and underneath the cylinder so it is well wrapped and can be moved easily. Refrigerate.

Remove parchment paper, gently rolling cake into center of cooling rack, with seam on bottom. (If roll has slumped or twisted, lay a piece of plastic over top and sides, and reshape with hands.) With a sharp knife, trim both ends of roll crosswise or on a diagonal.

I set the rack over another baking sheet and set the whole thing in my very large sink in order to pur the glacage over it:

Make the Glacage
Bring the cream to a simmer, then pour cream over the chocolate and stir until well blended.  Add butter and stir until blended. Pour the glacage slowly and evenly over the cake. Put in the refrigerator to set.

Make the Merengues
Whip the egg whites until foamy.  Add the vanilla and then the sugar, slowly, a little at a time, until the egg whites are stiff and glossy.
If you don't have a pastry bag (mine is lost) spoon the mixture into a one gallon ziplock bag and snip a small hole in one corner. Pipe mushroom caps by holding the bag's tip against the surface of a parchment lined baking sheet until you have a nice round dome. Pipe stems by piping a small, vertical stump. It takes practice but they don't have to all be perfect or similar.
Back in a 225 degree oven for one hour.
When cool, make a small hole in the top of each mushroom and insert the tip of the stem. You can use a little tempered chocolate to glue them together.
Sprinkle with a sifting of cocoa powder.
Tempered Chocolate Leaves
Heat 8-10 oz finely chopped chocolate over a double boiler to 105 degrees.
Take off heat and add 3-4 oz finely chopped chocolate
Stir and blend until chocolate cools to about 88-90 degrees.
With an offset spatula, spread chocolate in a thin layer on a slipat lined baking sheet.
As chocolate begins to cool and set, firmly press edible leaves into chocolate and let set until hardened. I used orange leaves.
When cool, score around edges of leaves with a paring knife. Carefully remove leaves from chocolate.
Use additional tempered chocolate to affix leaves and mushrooms to the roulade.
When you're ready to serve, dust the serving platter and/or the top of the log with confectioners' sugar and/or cocoa powder, and garnish with seasonal fruit. To serve, cut the roll into 1-inch-thick slices, and lay flat on dessert plates; top with additional creme chantilly, leaves and mushrooms.