by Lisa
"I am more modest now, but I still think that one of the pleasantest of all emotions is to know that I, I with my brain and hands, have nourished my beloved few, that I have concoted a stew or a story, a rarity or a plain dish, to sustain them truly against the hungers of the world. "   MFK Fisher



Yes, we did have pancakes on Valentine's Day.  But it was such a lovely meal, and we were all so sated by it, that it's worth writing about.
Aside from the memorable first Valentine's dinner my husband & I had in Los Angeles, where Leo DiCaprio unwittingly paid for our dinner, I think we're both inclined to take it or leave it.  But we wanted to do something for the kids, and so we (ok, I) started the grand tradition of Letting Dad Take Care of This One.  Kory came home with a lovely bunch of flowers and three little packages of cookies and chocolates. (He & I ate the chocolates, later.)
I had set the table the night before, and the children quite magically let us sleep in.
When we woke, the board was written.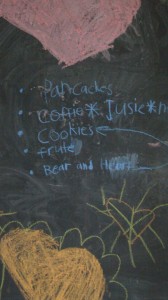 I was out of baking powder for the panckaes , but had buttermilk, and so I did a quick subsitute in our staple griddle cake recipe and made buttermilk pancakes instead.  The pancakes were light, fluffy, and sweet, a nice alternative, and they held up to the fresh raspberry coulis/syrup we served on the side.   I whipped some fresh cream, set out the coarse pink sprinkling sugar, and a bowl of  Ella Bella Farm's raspberries I had frozen in August.
Then, I used the very last of the raspberries to make a raspberry coulis, sweetened slightly with grade B maple syrup. Technically, I suppose, it wasn't really a coulis, since it wasn't pureed, but it wasn't exactly syrup, either. It was tart and sweet and will be just as good on vanilla ice cream as it is on pancakes.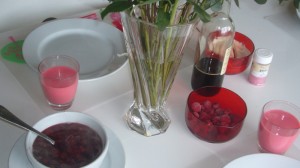 The kids got pink-tinted vanilla milk (whole milk + vanilla + sugar), and we all chose how to top the pancakes.  Ella and Finn chose whipped cream and pink sugar and whole raspberries.  I chose the coulis + whipped cream + sugar.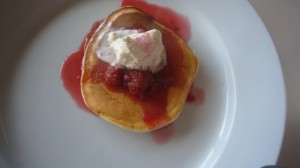 Kory & I took one bite of the pancakes and decided we needed to have some Valentine's mimosas, but neither of us wanted to go outside to pick oranges and squeeze juice.  So we poured the prosecco straight and topped it with a few muddled raspberries.    Honestly, I can't remember the last time I had anything even resembling a mimosa in the morning. I suspect it was before we were married, which would be nearly a decade ago.  But this may well be a tradition to revive.  We all lingered, then the kids played, and Kory and I lingered some more, and then with the house in order, we went the Cartoon Art Museum in San Francisco to see the Coraline show, which was truly amazing, then out for sushi, and a trip to the Japantown mall, all of which was so fun that I forgot completely that I was supposed to go to the markets to look for the giant fried squid.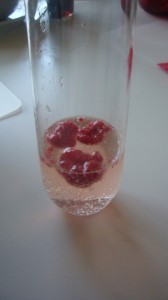 Buttermilk Pancakes
2 cups flour
1/4 cup sugar
1 teaspoon salt
1/2 teaspoon baking powder
1 egg
2 cups buttermilk
2 tablespoons melted butter
1. Sift together all dry ingredients into a large bowl. This is an essential step. We just use a sieve, and work over the sink for easy clean up.
2. In a glass measuring cup beat the egg.
3. Add milk to the egg.
3. Pour egg and milk mixture slowly over dry ingredients, whisking to incorporate.
4. Add butter.
4. Cook batter on a hot griddle. Don't turn the griddle cakes too soon! Wait until they are bubbling all over the center and a little dry around the edges.
For the Raspberry Syrup I simmered in a small pot about 1 1/2 cups fresh frozen raspberries, a few tablespoons of maple syrup, and about 1/4 cup of water until the raspberries began to slightly fall apart and the mixture was a nice consistency.