by Lisa
Unlike Caroline, I don't bake a lot. We were joking the other day about our families and how although we have many things in common, there are some major differences. The fact that we eat meat for one. The fact–as she joked–that I'm going "going urban homestead."  I demurred, but she's not entirely wrong.
This fall, as we do every year, we roasted and froze 40lbs of tomatoes, made and froze about 20 family-sized servings of pesto, froze 3 flats of raspberries, and picked over 300 apples. My freezer is a sophisticated and delicately balanced puzzle of epic organization.
I do this because it saves me time and money, it adds some variety to our winter diet, but I do this mostly because all this produce tastes better than the canned kind. Bring home mountains of fresh, organic produce, freeze it immediately, and you have a farmers market in your freezer all winter long.  Yes, it takes time in those weeks that you're canning and freezing, but then when school starts and you need a quick dinner, just reach in your freezer and there it is: emergency pesto, tomatoes that cook to the richest, sweetest sauce you'll ever make, a surprise dessert.
But now, with the weather not turning, the apples are not lasting as well as they should.  So this weekend, it was time to invest in an automatic apple peeler and make apple sauce.  The gadget worked like a dream, and while I roasted beets and peppers (because, okay, the hoarding & stockpiling instinct is still strong within me), Kory, Ella, and Finn went to town. In about ten seconds flat, a four year old can peel an apple.
And so can his sister: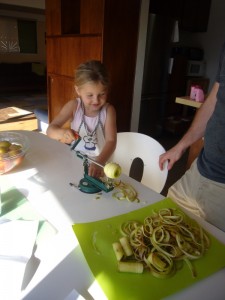 Or they can peel, core, and slice into cute spirals in the same lightning speed: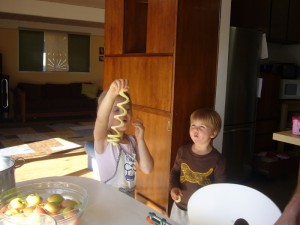 They ate a lot of apples, and Ella chomped down the skin like it was a long string of candy.
I made the apple sauce by instinct after reading a few recipes online.  Honestly, I made it for the kids. I don't think I've eaten applesauce for 30 years. But after tasting our homemade version, I'm guessing that Ella and Finn will be lucky to have two more bowls.
We ate it warm that night for dessert. With a scoop of vanilla ice cream.  It tasted like fresh picked, intensely sweet apples. Dessert gets fancier, and more chocolate-y, but I'm not at all sure it gets any better.
Homemade Apple Sauce
20-30 small apples
1/4 cup organic white sugar
1/4 cup organic brown sugar
2-3 strips lemon zest (from an organic lemon)
juice from 1/2 lemon
1 cup water
1 cinnamon stick
1. Peel, core, and chop or slice the apples. (Alternately, try leaving the skin on for flavor).  Put them in a large pot with the other ingredients. Bring to a boil then lower heat and simmer until apples are nearly dissolved.
2. REMOVE lemon zest and cinnamon stick.
3. Mash with a potato masher for a thicker, chunkier sauce. Or pass the mixture through a food mill.
Note: If you use fewer apples, just reduce the amount of sugar and zest accordingly, as long as you keep the brown & white sugars of equal proportion.  But you can also freeze this in individual or family-sized servings, just in case you're compelled to start your own stockpile.