It may be the end of September, but it's still summer weather here. So when we had friends over for dinner on Saturday, the only thing to do was barbeque. In retrospect, I might have chosen to do something other than stand in front of the grill in 90+ degree heat grilling wings, but it was a great meal and pretty perfect for the weather. These wings have been a hit in our family for years, and they actually work really well for weeknights if you follow the original instructions and broil them instead of grilling. It's a lot faster and requires less tending. The sauce/glaze takes about 2 minutes to make if you use bottled lime juice, which works just fine. These wings are sweet and a little spicy and completely messy and addictive–just likes they should be. We had 4 adults, 2 8-year-old girls, a 5-year-old boy and a 6-year-old boy. We ate nearly 8 lbs of wings. I had the genius idea to give the kids their own little table, a little apart from ours, under the shade of the orange tree, and their own plate of wings to dig into. We served them their salads restaurant style, and refilled their wings plate 3 times.
The grown-ups sat here.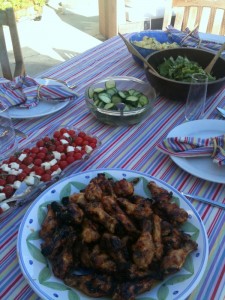 Alongside our wings were a Green Goddess salad, a mustard-chive country potato salad (recipes for these TK this week!), a cooling cucumber salad, and a mixed up caprese  with grape tomatoes and fresh mozzerella. But maybe the best side of all was the Aspasie champagne my friend Dena brought, which was the perfect drink for the wings.  I would have been happy to eat wings and drink champagne all night long.
The original recipe is here but I've also copied it below, substituting drumettes which I find easier to cook and eat, reducing the cayenne (you can adjust to your taste), and added grilling instructions.
Apricot Glazed Chicken Wings
4 1/2 lb chicken drumettes
1 tablespoon vegetable oil
1/2 teaspoon black pepper
2 1/4 teaspoons salt
1 cup apricot preserves
1/2 cup fresh lime juice
1 garlic clove, smashed
1/2 teaspoon ground cumin
1/4 teaspoon cayenne
Toss wings with oil, black pepper, and 2 teaspoons salt in a large bowl. These can stay covered in the refrigerator for a few hours, or until you are nearly read to grill. It's a good idea to take them out a little ahead of time so they're not ice cold when you put them on the grill.
Blend preserves, lime juice, garlic, cumin, cayenne, and remaining 1/4 teaspoon salt in a food processor or blender until smooth. Transfer to a small heavy saucepan and bring to a boil over moderate heat, stirring, then reduce heat and simmer, stirring occasionally, 1 minute. This sauce will keep, covered, at room temperature until you are read to use it.
Heat grill to high, then lower heat to medium and place wings evenly on grill. Grill for about 10 minutes, then turn over and grill for about 10 more minutes, until wings are nearly cooked through.
Brush 1/4 cup sauce on cooked wings and grill 2 to 3 minutes. Turn wings, and brush with 1/4 cup sauce again, and grill 2-3 minutes. Turn wings over and brush with another 1/4 cup sauce. Grill for another 2-3 minutes. Repeat the basting & turning until the wings are deeply browned and fully cooked through. I find wings (like lots of bone-in chicken) can be tricky on the grill. I go for slow and lower heat, to ensure even and thorough cooking without charring the skin.
Brush with remaining sauce before serving.