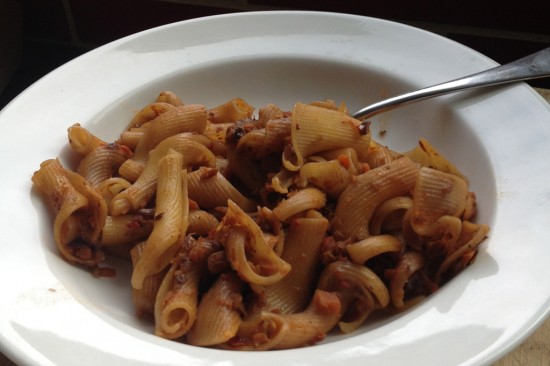 With apologies to the people of Bologna, and everyone who takes their meat sauces seriously: here's a variation for those of us who don't eat meat. It's quicker (great for a weeknight) but every bit as hearty and warming as a traditional bolognese.
Vegetable Bolognese
1 oz (28 g) dried porcini mushrooms (1 cup)
1 cup boiling-hot water
2 medium carrots, quartered lengthwise, then cut into 1-inch pieces
2 celery ribs, cut into 1-inch pieces
3 medium shallots, quartered lengthwise
1 medium red bell pepper, cut into 1-inch pieces
3 tablespoons olive oil
2 teaspoons chopped fresh rosemary
3/4 teaspoon salt
1/2 teaspoon black pepper
2 tablespoons tomato paste
1/2 cup dry red wine
1 pound of pasta (pappardelle, orecchiette or another shape that will hold the sauce is nice)
Soak mushrooms in boiling-hot water for 15 minutes.
Meanwhile, pulse carrots, celery, shallots, and bell pepper together in a food processor until chopped.
Heat oil in a 12-inch heavy skillet over moderately high heat until hot but not smoking. Add chopped vegetables, rosemary, salt, and pepper and sauté, stirring occasionally, until vegetables are golden brown and tender, about 12 minutes.
Lift mushrooms out of soaking liquid, squeeze excess liquid back into bowl (reserve liquid), and rinse mushrooms well to remove any grit. Finely chop mushrooms, then add to vegetables in skillet along with tomato paste. Cook over moderate heat, stirring, 1 minute. Add wine and boil until wine is reduced by about half, about 2 minutes.
While sauce is cooking, cook pasta in a 6- to 8-quart pot of boiling salted water until al dente. Reserve 1 cup pasta-cooking water in a heatproof measuring cup, then drain pasta in a colander.
Add reserved mushroom-soaking liquid to sauce and bring to a simmer. Add pasta and 1/2 cup reserved cooking water to sauce, tossing to coat (thin sauce with additional cooking water if necessary).