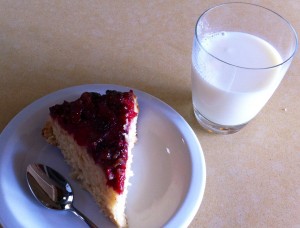 Some mornings, you're turned upside-down by 4 hours of sleep. There's a sink full of dirty dishes, and you ruin a batch of pancakes. There's the problem of the lumpy pony-tail, which you can't make it right because you're drunk with fatigue. There's an 8AM appointment for the broken clothes washer. Predictably the necessary part will arrive in 10 days.
Sleep eludes you, and there's that pint of raspberries waiting to be used.  You know it's probably a bad idea, cooking-while-exhausted. Still, you bake the cake.  Predictably, you burn the cake. Fortunately–the one fortunate thing of the day–you can slice off the top. You throw away the burned bits. You invert the cake. The metaphor is not lost on you.  Neither, actually, is the day.  Somehow, you get the kids  home from school safely. You give them cake + milk.  Homework gets done. Carpools get run.  You cut your losses.  You flip the day.
Raspberry Upside-Down Cake

For the Raspberry Topping:
1/2 – 3/4 pint fresh raspberries
5 tablespoons brown sugar
3 tablespoons butter

For the Cake:
2/3 cups cold butter (cut into cubes)
1 cup white sugar
½ cup brown sugar
3 large eggs
2 teaspoons vanilla
1 cup milk
2 cups all-purpose flour
2 teaspoons baking powder
1/2 teaspoon salt
Preheat the oven to 350 degrees.
Place 3 tablespoons butter in a 9-inch spring-form pan and put the pan in the oven to melt the butter.
When butter is just melted, remove the cake pan from the oven and sprinkle 4 tablespoons brown sugar over the bottom of the pan.
Toss the raspberries in a small bowl with another tablespoon or so of brown sugar and set aside.
In a large mixing bowl cream the butter and sugars until combined.
Add the eggs one at a time, then the milk, then the vanilla.
On low speed, add in the flour, baking powder, and salt.
Continue mixing until the ingredients are completely combined.
Spread the raspberry/sugar mixture over the bottom of the pan, then pour the batter over the raspberries.
Bake the cake for 40 minutes or until the cake is golden brown and the center is no longer wet. It
When the cake is cool, remove the spring form, invert the cake onto a serving dish, and carefully lift the bottom of the pan off the top of the cake.