by Caroline
What I love most about eating out is not having food brought to me, piping hot, and having my water glass refilled without my having to rise from the table. It's not even avoiding the prep, cooking, or clean up. What I really love about eating out is the variety, a full menu of appetizer, salad, and entree options to choose from. We cook pretty well at home, but we fall often into the easiest possible routine of one pot, one dish meals, a simple something-on-grains/flatbread/pasta.
So among all the many ways I was inspired by our glorious ten days in Turkey, from the street food to the markets to the freshly-caught fish for our last lunch, I was most inspired by meze, that ever-changing, always delicious, predominantly vegetarian array of dishes to start (and in some cases, fully comprise) every meal.
I should note that the kids were not huge fans. Ben gamely tasted a variety of meze (and quite liked the little bulgar wheat patties cooked in pomegranate sauce), but Eli thought even Turkish rice was "weird." But they did not starve or get cranky, so while I can't now remember what they ate every day, they must have eaten.
Meanwhile, the rest of us feasted. The five of us traveling in Istanbul and then the nine of us staying together on the coast ate out, often, for the price of burritos all around. And when we cooked at our rental house we did pretty well, too: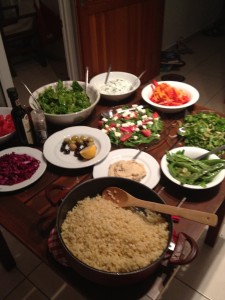 So I have been trying to remember the pleasure of eating small tastes of many dishes now that we are home in San Francisco and recently cooked a batch of kisir, a bulgar wheat and pomegranate molasses salad we encountered in various forms throughout Turkey. I followed a recipe from Yotam Ottolenghi gorgeous cookbook, Plenty, which is helpfully posted at his website but do check out the book; it is absolutely inspiring.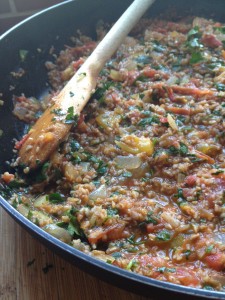 Once the salad was made, I filled out our meze platter (which skewed a bit Italian) with roasted artichokes, a simple grated carrot salad, caprese salad, steamed green beans, salad greens and sliced radishes. It wasn't Turkey by any means, but it felt like a brief return, and it was delicious.