If you ask my kids, they will tell you their favorite restaurant is the Melting Pot, a chain of fondue restaurants.  Everything I wrote almost exactly one year ago remains true.  Yet in spite of the price, we have eaten there three times this year.  We didn't anticipate that our promise to celebrate certain accomplishments would become  such an expensive one.
So, Santa thought it was time to leave a fondue pot for the family, which we used almost immediately to inaugurate a new tradition:  New Years Eve Fondue.
We all helped prep: cutting bread and dipping vegetables and apples and setting them on the table on small bowls. grating cheese in the food processor; chopping and measuring the aromatics and liquid; covering the table in butcher paper and then setting it.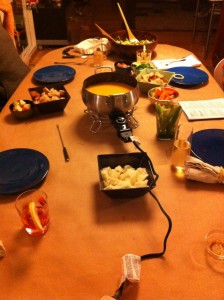 Everything ready to go
We have the Cuisnart electric fondue pot, so when everything was prepped, we brought the ingredients right to the table to cook.  The pot gets up to temperature almost immediately, so if you have your prep under control, this is a very fast dinner, one you could even do on a busy weeknight. The fondue comes together in less than ten minutes, even if you make, like we did, enough fondue to feed a small regiment of Swiss gendarmes.
We took turns with the cooking: I sauteed the garlic, kids added the beer, then we all  added handfuls of cheese, the aromatics, and stirred until the fondue came together.
Then we ate.
It was one of the most pleasant, easy meals we've had this season. I reckon we'll save about $600 a year in restaurant bills. There's something about cooking together over a single pot, then eating out of a communal bowl that brings our family together in the way no other meal can. (True, the sticks help.)  I think the next time an ugly conflict rears it's head, or I need a good bribe reward, I might suggest fondue for dinner and all will be well.  Really, it's like family therapy.
Horseradish Cheddar Fondue
Makes enough for at least 8 hungry people, so adjust accordingly. Follow the directions on your fondue pot for cooking and warming.
1 1/2 lbs mild cheddar cheese, shredded
2 tablespoons cornstarch
1 1/2 cups beer (we like Stella Artois)
1 tablespoon butter
1 minced clove garlic
1 teaspoon horseradish mustard
1-2 dashes tabasco
Ideas for dipping:
bread cubes
carrots
broccoli (lightly steamed if you prefer)
mild pre-cooked sausage
fennel and/or celery
apple wedges, cut in half
Toss shredded cheese with corn starch and set aside.
Saute garlic quickly in melted butter.
Add beer and bring to a gentle simmer.
Slowly add in cheese, stirring to melt evenly.
Add mustard and tabasco.
Serve immediately.