One of my resolutions this year is to do only One Thing At A Time.  This is very, very hard for me.  Somedays, when I have 12 things on my to-do list, including writing, teaching, errands, chores–it's physically painful not to do that one extra thing.  The commitment has meant, among other things, that I am trying hard not to Get Dinner Ready While Helping With Homework. Or not to Section The Cauliflower While Doing Laundry.  Or not to Peel Carrots In Ten Minutes Before School Pickup.  I'm trying hard to avoid Eating Dinner In The Car On My Way To Work.  It means other things, too, like not asking my kids to Get Ready For Soccer And Eat Your Snack. Or Clean Your Room and Get Ready for Bed.  You can extrapolate.
You can call it my Oxford comma moment.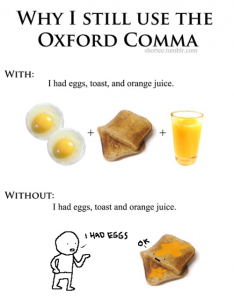 However, I am still trying to cook with fresh food.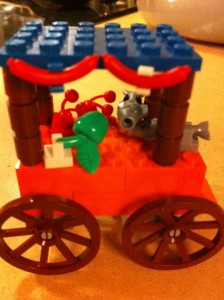 Leaving the fast food to Finn
Doing One Thing At A Time means I have to plan more than ever. It means I have to start early. It means I have been thinking hard about what I can do to minimize my cooking time between the hours of 3 and 6.
In my quest, my new appliance has been life changing. Technically, my slow cooker is not a traditional slow cooker. It also roasts, sautees, browns, and simmers.  I am still learning the best ways to use it: how the high/low settings work; how long to parboil pastas; best cooking times for different sizes of baked potatoes; how much extra liquid  to add to simmer-all-day soups.  But it has been on my countertop nearly every other day since I got I it, and it has helped me slow down and simplify in countless ways. To date, I've made delicious Swedish Meatballs and Beef Stew.  But also: macaroni and cheese, red sauce, baked ziti (with leftover red sauce), split pea soup, baked potatoes.  Not all the recipes are perfect. Yet. (Except the pea soup. And the hint to rub the potatoes lightly with olive oil and sprinkle with salt before baking.)  But it has made my life exponentially less stressful.  And that, as some of you know, makes everyone less stressed-out. Funny how that works. Funnier that it has taken me so long to learn the lesson.
So along comes last Sunday, when our local football team played my childhood football team for a spot in the Superbowl.  I have fond memories of dark winter afternoons, a house full of the smells of my mother's red sauce, or spaghetti and meatballs, or lasagna, endless football games, tv trays, warm garlic bread. And so even though I didn't need to use it, I pulled out my slow cooker, sauteed the meat, added the tomatoes, herbs, and wine, and set it to Simmer for the next, oh, 4 or 5 hours.
Right before game time I cooked the pasta. Ella made kidtinis. We watched the game.  We ate.  We put in all the stops.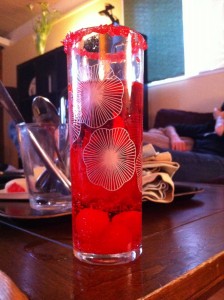 Ella's 49er Kidtini. It involved club soda, Meyer lemons, grenadine, and a whole lot of cherries. Also red sugar.
Slow Cooker Red Sauce
1/2 lb ground beef
1/2 lb ground pork
1 cup chopped onion
4 cloves garlic, finely chopped
1 bay leaf
2 cans Italian tomatoes
4 sprigs thyme
1/4-1/2 cup red wine
With slow cooker on Sautee/brown, sautee meats with a pinch of salt until cooked through.
Add onion, garlic, and bay leaf, and cook, stirring constantly, until onion begins to soften.
Add tomatoes, thyme, wine.
Simmer for 4-5 hours.
This easily makes enough to dress 2 lbs of pasta. Save 1/2 for a batch of quick baked ziti during the week.