by Lisa
I'll bet you didn't know that today is St. Lucy's Day.  And that it is also my daughter's half-birthday. And that her still-beloved American Girl doll, Kirsten, hails from Sweden, where St. Lucy is pretty much the only saint honored. If you've read my book, you also might know that we nearly named Ella "Lucy", after my paternal grandmother.
For a few years, Ella has been lobbying to celebrate her half-birthday/Swedish saint day in a traditional way: with St. Lucia buns, brought by the eldest daughter, at the crack of dawn, to the other members of the household. Usually, this daughter wears a crown of candles.  Historically, December 13 would have been the winter solstice, the darkest night of the year, and thus the tradition of the eldest daughter bringing light and sweets.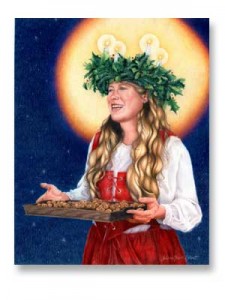 Last night at dinner, Ella reminded me about St. Lucy's Day and told me exactly where to find the recipe, and at 6:30 pm, I agreed and set to work making St. Lucia Buns for the morning. I didn't have saffron or raisins, which means ours were not exactly authentic, but they were good enough.  They're a sweet, yeast bread and easy to make.
This morning, at about 6:45 am, it was still dark, and Finn came into our room, announcing, "Stay in bed!" Not long after that, Ella arrived (sans scary candle crown) with a breakfast tray bearing two cups of coffee and 4 St. Lucia buns, plated and garnished with candied walnuts, which she'd added in place of the missing raisins.
It was lovely to have a break from the regular routine, to forget about making lunches and emptying the dishwasher and making beds.  We all piled onto our bed, and had a calm, sweet breakfast as the sun came up.
St. Lucia Buns
from Kirsten's Cookbook
1/3 cup milk
1/4 cup butter
1/4 cup lukewarm water
1 package yest
1/4 cup sugar
1 egg
1/2 teaspoon salt
1/4 teaspoon saffron
2 3/4 cups flour
1 T cooking oil
1 egg + 1 T water
24 raisins
Sprinkle the yeast over the warm water. Set aside for 5 minutes until  bubbly and smooth.
Warm the milk and butter over low heat until butter is just melted.
Add the milk and butter to the yeast.
Stir in sugar, egg, salt, and saffron.
Add 1 1/2 cups flour and stir until smooth.
Add enough of the remaining flour so that you can shape the dough into a ball.
Put dough on floured cutting board & knead, adding flour as dough becomes sticky.
When dough is smooth and  springy (about 5-10 minutes) cover with a towel and wash & dry mixing bowl.
Measure cooking oil into bowl, add dough, turn to coat, cover with a towel and set in warm place to rise, 45 minutes, or until doubled in size.
Punch down the dough, then divide into 6 sections.  Take one section and divide in half. Roll each half into and 8-inch rope. Cross the 2 ropes in the middle then coil the ends into tight circles. Repeat w/remaining 5 buns.
Place buns on greased cookie sheet, 2 inches apart. Let rise until doubled, 30-45 minutes.
While buns are rising, preheat oven to 350 degrees.
Beat egg and water and brush lightly over the top of each bun before baking. Decorate with raisins.
Bake buns 15-20 minutes, until golden brown.
Cool on cooling rack.