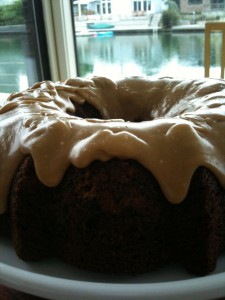 by Caroline
Glaze. Glaze is one of those words that makes me try a recipe, and the combination here of "caramel" + "glaze" got me, even though it is really just one small component of that recipe. But this glaze is so good I might just start making it to spread on things other than cake.
This recipe is from Merrill Stubbs, at the fabulous Food52, and I didn't change a thing.
Applesauce Cake
Serves 10
For the cake:
2 cups all-purpose flour
1 1/2 teaspoons baking soda
1 teaspoon kosher salt
1/4 teaspoon finely ground black pepper
2 teaspoons cinnamon
1 teaspoon ground ginger
1/4 teaspoon ground allspice
2 large eggs
1 cup sugar
1/2 cup light brown sugar
1 1/2 cups unsweetened (preferably homemade) applesauce
2/3 cup vegetable oil
1 teaspoon vanilla
For the caramel glaze:
4 tablespoons butter, cut into chunks
1/2 cup packed light brown sugar
1/3 cup heavy cream
1/4 teaspoon kosher salt
3/4 to 1 cup sifted confectioners' sugar
Heat the oven to 350 degrees and butter and flour a 12-cup Bundt pan. Sift together the flour, baking soda, salt, pepper and spices and set aside. In a large mixing bowl or the bowl of a standing mixer, beat the eggs with both sugars until light. Mix in the applesauce, oil and vanilla until smooth.
Using a spatula, fold in the dry ingredients, being careful not to over-mix. Pour the batter into the prepared pan and bake for about 45 minutes, until a cake tester inserted in the center of the cake comes out clean. Cool the cake for 10 minutes in the pan on a rack before turning it out and cooling completely on the rack — make sure the cake is not at all warm before you make the glaze.
TheRunawaySpoon wisely advises that you put a piece of foil or paper under the cooling rack to catch any drips before you start the glaze. Put the butter in a medium saucepan with the brown sugar, cream and salt and set over medium heat. Bring to a full rolling boil, stirring constantly. Boil for one minute exactly, and then pull it off the heat.
Leave the pan to cool for a couple of minutes, and then gradually whisk in the powdered sugar until you have a thick, but pourable consistency (you may not need all the sugar). If the mixture seems too thick, just add a splash of cream to thin it out a little. Immediately pour the glaze over the cake, moving slowly and evenly to cover as much surface area as possible. Let the glaze set before serving the cake.