by Caroline
We were not having a very good food day.
Hotel breakfast (comped because we'd been woken at dawn by construction noise the day before) was a cold buffet of cereals, pastries, and steam table eggs (also fairly cold).

We'd been warned off eating at the American Museum of Natural History's food court, but we couldn't avoid it, so lunch, too many hours later, was grabbed quickly and bolted between our timed entries to the Big Dinosaurs exhibit and the planetarium show. Eli found a decent rice and bean taco and Tony and I split a veggie burger, while Ben somehow got away with only a fruit leather and sun chips. It hardly mattered — the museum is so amazing — and with more time maybe we could have done better, but we all just wanted to get back to the exhibits.
Several hours later, we finally emerged blinking into the light of Central Park. We let the kids fortify themselves from a snack cart — a banana, a hot pretzel — but then even that went sour; Ben liked his lime popsicle shots — basically a cup of popsicle gravel (see: saying yes to things on vacation) but Eli (who lately ignores his own preferences in favor of being just like his older brother) ate a couple spoonfuls and then abandoned his fluorescent snack.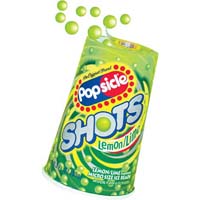 Now, I can write off a meal or two, but I don't really have it in me to shrug and say, "OK, I'll just eat something delicious tomorrow." It makes me too sad. Plus, of course, I feel some responsibility to my kids — not just that they eat healthy food (though admittedly I relax this on vacation) but good quality, tasty food. And this day wasn't offering that. So dinner really needed to be something decent, maybe even something with a vegetable.
I wasn't optimistic — we were in Central Park, planning to head down to Times Square and then west to the pier to take the boys on a Circle Line tour. We were in a part of Manhattan I don't know at all, going to one I know less. I figured the boat would offer ballpark fare (hot dogs, popcorn and beer) and didn't have high hopes for Times Square. I was wishing I could fill them up on hot dogs, roasted nuts, and pretzels, but I just couldn't do it. I didn't have the energy (or battery life in my phone) to explore mobile food apps. We were like pioneers.
Walking up 8th Avenue, though, we spotted Dean & Deluca in the ground floor of the New York Times building and got excited. But inside, they'd shut down the salad bar already and only had prepared sandwiches available; next door, at Schnippers Quality Kitchen, we found a place reminiscent of our local favorite, Taylor's Automatic Refresher (aka Gott's) and a menu listing seven or eight different, interesting tossed salads, hot and cold sandwiches, burgers, even fish tacos and milkshakes. Somehow the boys skipped the milkshakes (it's not like they can't read), apparently sensing their own need, after their mediocre lunch, for something healthy and fresh. (Plus, they know we're going to the Red Rooster soon). Ben ordered the Asian Chop Chop, a crunchy mix of Napa cabbage, edamame, snap peas, tofu, croutons and peanut dressing (he held the scallions and peppers) and Eli had a Caesar.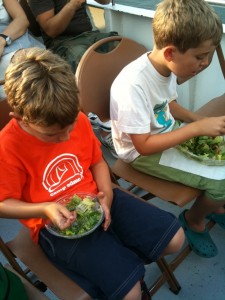 Tony ate an arugula and roasted tomato sandwich with fresh mozzarella, while I had a fabulous market salad of corn, avocado, beets, tomatoes, slivered almonds, chickpeas and croutons on arugula and chopped romaine, served with a nice piece of multigrain bread.


We augmented with freshly-baked cookies and a pack of rough cut potato chips and ate on the boat, our food day redeemed.