by Caroline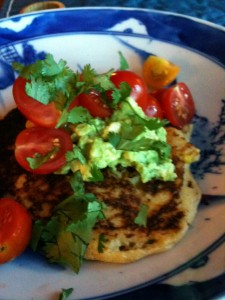 When my husband and I decided to get married, I told him I could imagine making a life in his native San Francisco as long as we spent one week every summer somewhere I wouldn't need to wear a scarf.
That means, happily, an August week in Northwest Connecticut, visiting my parents, and that also, very happily, means corn. Usually, we're eating my Dad's corn, but this year the crop failed so we're getting it from local farm stands. My Dad likes the one the First Selectman sets up at the end of his driveway (presumably because he can get caught up on local political talk); my Mom (and I) like the bigger one that also offers fresh, homemade mozzarella. Either way, with this much corn around, you are bound to have leftovers, and this recipe is my new favorite way to use them. Don't be put off (as I nearly was) by the somewhat fussy step of blending and straining some of the corn with milk: it makes a difference.
You can eat these the way my kids do, drenched in maple syrup (and when the syrup's homemade, I won't stop them), but you can also eat them savory, as I've pictured, with guacamole and fresh tomatoes. It's summer on a plate.