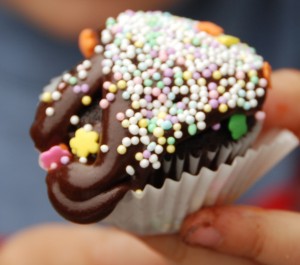 by Caroline
I don't do elaborate kid birthday parties. Knowing that most children are happy with a treat and the chance to play with their friends, I don't see any reason to knock myself out. I am lucky that my sons both have spring birthdays, so we can keep everybody in the backyard, and for the last few years we've hosted parties for both boys that involve the kids building objects out of scrap wood and sending them flying down a fishing line strung from our back deck into the yard. The boys call the game "crazy contraptions," and so far we have proven that kids from four to ten will play it for hours.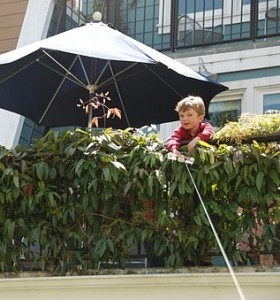 When it's time for a break, we let the kids put their creative impulses toward cupcakes, and here's where I suppose I do put in some effort, but I like to bake and homemade cupcakes are quick and cheap, so I make a lot. Typically I make crazy cake chocolate cupcakes and a vanilla cupcake and let the kids choose one or the other; this year Eli requested chocolate vanilla swirl, so I followed this incredibly simple (and delicious) recipe. Then I make a double batch of cream cheese frosting, divide it and color it, plus I make one batch of chocolate frosting. I set out the frostings in ziploc bags with one corner trimmed off (ie, instant homemade piping bags), set out some sprinkles, and let the kids go to town.
This recipe came from my friend Liz, and it is not only the best chocolate frosting I know, it happens to be super easy:
Beat until well-combined and a bit fluffy:
3 T room temperature butter
3 T cocoa powder
1 T light corn syrup or mild honey
1/2 t vanilla
Add 1 c confectioner's sugar and mix well.
Stir in
1-2 T milk, just enough to make the frosting spreadable.
Makes about a cup — perfect for a dozen cupcakes, but you'll want to double the recipe to frost an entire cake.