by Caroline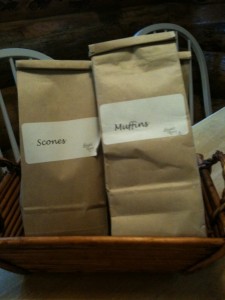 Some of my best baking experiences have been spontaneous efforts in unfamiliar kitchens. In the Outer Banks with my sister's family one year, I made never-to-be-repeated cinnamon rolls, based on the white bread recipe on the bag of flour I bought in the market. I improvised a brioche dough by making the dough with milk instead of water, set it to rise and forgot about it till evening. So I punched the dough down, stuck it in the fridge for an overnight second rise, and rolled the dough out and filled it with a lot of butter, sugar & cinnamon, and raisins in the morning. I let it rise some more while I preheated the oven, then, unfamiliar with the oven's controls, baked the rolls in a cooling oven for twenty minutes since I had inadvertently turned the heat off when I set the timer. But the rolls looked okay at that point, just a little pale, so I left them in, turned the oven on, and took them out when it reached baking temperature again. Like I said, never to be repeated.
Another year, in a Thanksgiving beach rental, I wound up making a chocolate pecan pie with my extra pie crust. I hadn't needed the pumpkin pie back-up crust I'd made, my friend had extra pecans from her stuffing and I, of course, had plenty of chocolate. It's become a Thanksgiving tradition for us now.
But baking did not really figure into my plans for three days in a cabin on San Juan Island last week. I was just looking forward to having a small kitchen to cook some simple summer meals, and I know my boys were, too. On our second night in Seattle, the first stop on our summer vacation, my 6 year-old, Eli, asked mournfully, "Mama, when will we eat home food again?" But baking, well, baking just takes a lot more kitchen overhead than fixing a quick pasta with market vegetables. I'm certainly able to use 5 pounds of flour in three days, but that's not what this time was about. So, while the boys were excited to see that our cabin came equipped with scone and muffin mixes, I was skeptical about them. I confess I haven't used a baking mix since I was in elementary school, and my brother and I would make (and eat) an entire Stir n' Frost cake after school before my mom came home from work. These mixes, like those fabulous Stir n' Frosts, required nothing, nothing but water, just like the original Betty Crocker mixes, before the company realized that people were more likely to buy them if they had to beat an egg and measure in some oil, so they'd feel like they were baking. But who am I to reject a nicely labeled bag of muffin mix, especially after a long day of orca-spotting? I have pretty high standards, but I'm not too fancy to turn down a free mix.


The package didn't list any ingredients, just instructions to add a certain amount of water and bake at a certain temperature for a certain amount of time. Eli did every step, hoping against hope that the little dark bits in the mix were chocolate chips. Sadly for him, they turned out to be dehydrated blueberries. But the muffins were delicious — fragrant with vanilla, moist and not too sweet. They're never to be repeated, just like those Outer Banks cinnamon rolls, but we may remember them just as fondly.