I didn't really want to do anything for Mother's Day, which I feel pretty ambivalent about. Aside from an exciting, early morning soccer game for Ella, I had no plans, and I wanted to keep it that way. I thought a nap might be in order.  Later, I just didn't feel like cooking dinner.  I didn't feel like takeout. Nor did I feel like having my husband cook dinner and make a mess in the kitchen–even a little mess.   To his credit, Kory took it upon himself to make a reservation at a local restaurant that we hadn't been to for a meal. I'd had drinks and snacks there with some friends but had never seen the menu. I was a little skeptical, but too tired to make a big deal. So we dressed up and went out to an early dinner.
My first impression: not so positive. It's one of those places with the kind of faux Tuscan decor that's just sort of cheesy and nondescript: murals of villas and sunflower fields, faux arches, earthy colors.  The menu was less than inspired and sort of expensive. They served mostly standard Italian American fare,and the kids menu looked like this: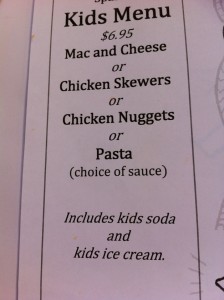 So, we weren't expecting much.
The restaurant was very quiet. There were white linen tablecloths, pretty little candles, nice flatware and glassware on the table. But  they brought the kids a big box of crayons and some paper which happily entertained them while we ordered and waited.
I had a really good glass of Prosecco, which makes almost anything better than okay, and when the server brought the Casear salad, to our great surprise, both kids dug in. Finn shared with me, Ella shared with her dad, and was even persuaded to eat several of the anchovies.
It was incredibly calm–at our table, but also in the restaurant more generally. There were several elderly couples around us, but across the way was  a family with two teenagers, dressed casually in hoodies and jeans, tucking into filet mignon, having what seemed to be a really pleasant time.
When they brought the pasta, you could tell right away it was impeccably fresh. Ella's pesto was bright green, as if it had just been mixed. Finn's marinara was bursting with flavor, and my bolognese was perfect.   The portions were just the right size. So in spite of the fact that the kinds menu looked like the worst kind of generic pandering to kids, they got to choose their pasta shape and the sauce, and both were beautifully prepared–simple, fresh, delicious–and served in elegant bowls. The kids loved it. I loved it.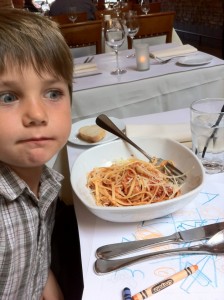 At some point, a family with a baby and a 5 year old in complete butterfly face paint and a lovely party dress sat  next to us. They had a conversation with the grandparents on their other side. The little girl listened intently to some story Kory was telling Ella and Finn, then joined the conversation at our table.  By this time, the restaurant was packed with a really diverse group of people, and maybe it was the second glass of prosecco that got to me, but I prefer to think that there was something magical at hand. The general quality of the food, the welcoming atmosphere, the young and old, moms, dads, kids of all ages, grandparents, the mix of elegance with a deep family-friendly attitude. Yes, it was pricey, but I can't help but think that helps to maintain a certain mood of dignity and respect.
And things went so swimmingly, we even let the sit next to each other and tuck into a pretty great ice cream sundae. At home, this would easily have devolved into disaster.  But they knew better.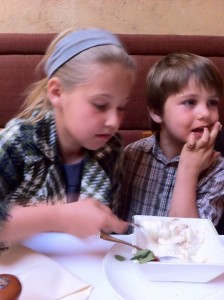 Not every family dinner can be so lovely and calm, but when things go as well as they did on this night, I remember the basic tenants we've been working on since Ella was a year old: be open to new experiences; teach your children appropriate restaurant behavior; a little bit of fancy dress does wonders to calm the beast and raise expectations; go to dinner when your children are hungry, even if this means a 5 PM reservation.