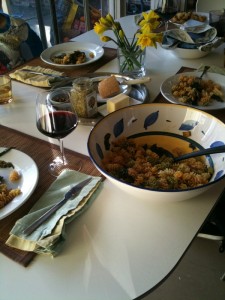 Yesterday, the day got away from me, and even though it was Sunday, I hadn't gotten the pot of black beans to simmer before the soccer game, as I had imagined I would, and 5:15 rolled around and even though I had a house full of food, I had no idea what to cook.
So, I took a page from Ben's book, and I foraged.  Meaning, I started pulling things out of my refrigerator one at a time, in this order:
green olives with herbs, newly purchased from a new vendor at our farmers market (this suggested pasta)
mini baguettes (another nudge in the direction of pasta)
bacon (bought for the beans but I figured I might as well find a way to use some of it)
yellow chard (because it's a little more work to clean and chop than spinach, so better for a Sunday than a weekday…)
And then I pulled a little suburban iron chef action and did this:
Pasta with Bacon and Yellow Chard
Cook 5 slices bacon until tender crisp. Set aside to drain, then chop into 1 inch pieces.
Drain off most of bacon fat and reserve for another use.
Rinse and chop stems, then leaves of 1 bunch yellow chard into 1 inch slices/strips.
Saute chard stems in bacon fat until they begin to soften.
Add chard leaves and sautee about 4 minutes.  Add about 1/4 cup vegetable broth and simmer until liquid is mostly reduced and chard is tender but not too soft. Turn off heat. Return bacon to pan.
Cook pasta according to package instructions.
Drain pasta, reserving 1 cup pasta cooking water, and add pasta to bacon and chard mixture along with 1/2 cup finely grated pecorino or romano cheese. Toss quickly to coat. Add a bit pasta water if it seems too dry.
Serve immediately.
The olives & bread made nice sides.
The dish was a huge hit, especially with the kids, who seem to have turned into little bacon monsters over night, and really, who can blame them? It's fast, not too messy, and one dish meal.