My new favorite appliance is my Breville pannini press. Actually, we've had it for a while, but getting rid of the microwave (actually, the microwave sort of exploded and we haven't replaced it) has made counter space for the rice cooker & the pannini press, both of which I now use all the time.   The press is great for quick marinated & grilled meats for rice bowls (think Thai chicken skewers, etc) & clean-up is really fast.  But not so long ago  Trader Joe's started carrying this bread, and our life changed (a little).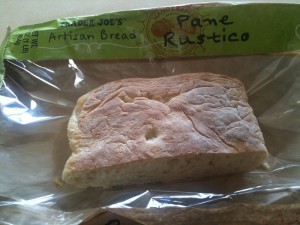 This bread makes a perfect pannini–and it makes all the difference between a run of the mill grilled cheese and a sandwhich that's something special. The bread is not too thick, the crust grills perfectly and it's very, very fresh–just the right combination of crisp and soft.   Pannini has become one of the kids favorite dinners–and one thing I've turned to a lot over the past month of crazy book launch things-to-do. We serve them with a sides of green salad, and there's not much faster on a weeknight.  The kids like them simple:  cheddar or mozarella; or salami or mortadella and mayonnaise.  Kory & I like some variation of meat + cheese + thin slice of crisp fruit for crunch. For instance:
mortadella + provolone
salami + cheddar
prosciutto + mozzarella + apple
ham + cheddar + apple
provolone  + pear
cheddar + tomato
turkey + jack + apple
You get the idea:  whatever you like; whatever you have on hand.  Make a few variations, cut them up , and serve a platter–and there's nothing like a platter to bring a family together.  Also, giving the kids a choice–even a small one–makes them happy.