by Caroline
In years past, I have made heart-shaped chocolate sandwich cookies, I have made heart-shaped brownie ice cream sandwiches, and even homemade Ring Dings (or Ding Dongs, depending on whether your family bought Hostess or Drake's Cakes). Last year, apparently not so much in the mood for sweets, I made a bright pink beet pasta for Valentine's Day. This year, with a kid at home — not quite sick but not quite well– taking a midwinter personal day off from school, I wanted to make a Valentine's treat that involved him. I had a vague recollection of a stained glass cookie, and Ben's the one who found the recipe in his Spatulatta cookbook. And because we already had a supply of pomegranate-tangerine lollipops (long story) available for crushing, we didn't even need to go to the store!
12 T (one and a half sticks) unsalted butter, at room temperature
1 c granulated sugar
2 eggs
1 t vanilla
2 1/2 c all-purpose flour
1 t baking powder
1 t salt
clear red hard candies, like Life Savers, crushed
First, enlist a willing young helper to crush the candies. Stick them in a big ziploc bag and use a rolling pin or a can of beans for pounding: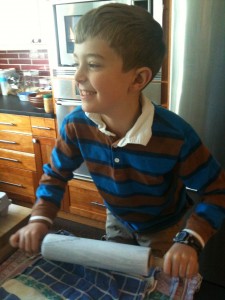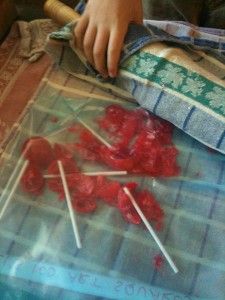 Next, beat together the butter and sugar until pale, add the eggs one at a time, and then mix in the vanilla. Now add the flour, baking powder and salt, and mix until well blended. Form two discs of dough, wrap well and refrigerate for about an hour.
Toward the end of the hour, preheat the oven to 375. Line two cookie sheets with parchment.
Sprinkle a work surface with a bit of flour and, working with one disc of dough at a time, roll out to 1/8″ thick. Cut out large hearts and put them on a cookie sheet, then cut out small hearts from the middle of each large heart. If you are lucky, you'll have another willing helper to do this part for you: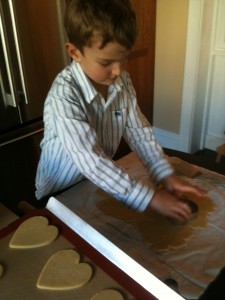 Fill the heart-shaped hole with crushed candies:

Sprinkle the small hearts with colored sugars, or simply bake them with the large hearts and frost them (or not) after they have baked and cooled.
Bake the cookies 7-9 minutes, until lightly browned.
Let the cookies cool completely on the cookie sheet before removing them to a rack, or else when you lift the cookies, your candy hearts will remain behind!