by Caroline

Before my mom went back to work full-time, when I was in elementary school, she cooked dinner every night and baked bread every Saturday. She made birthday cakes for all four of us kids and thousands (I'm not exaggerating) cookies at Christmas. But the one thing I don't recall her making on any regular basis, if at all, was coffeecake. We bought Entenmann's. Most New Yorkers I know will sigh with happiness when they think of Entemann's, the grocery store coffeecake in the windowed box. There were strudels and crumb-topped cakes, but my favorite was the cheese-filled danish.
I don't make coffecake very often myself — pancakes and waffles are much more common — but for New Year's Day and other brunch parties, this is the one I make, which is like a fresh update of those classic Entenmann's cheese coffeecakes of my childhood. I found the recipe first in a Martha Stewart Living and noticed it also on Heidi Swanson's 101 Cookbooks blog, so those are great bona fides if you don't quite trust me: this is a delicious, moist, and easy to make ahead treat.
Note: you can leave out all the citrus zests, or just use one (orange or lemon) if you don't have all 3. Zests keep well in the freezer (I have little waxed paper bags to store each kind) so you can always have a supply on hand.
For the dough:
½ c warm water
2 T active dry yeast (2 envelopes)
1 t sugar
½ c butter, melted and cooled (plus some more to grease the bowl)
2/3 c sugar
1 c orange juice
2 large eggs
zest of 1 lemon
zest of 1 lime
zest of 1 orange
1 t salt
5-6 c flour
For the filling:
1 pound cream cheese (room temperature)
1 c confectioner's sugar
2 egg yolks
2 t vanilla
1 c dried cranberries, dried blueberries, dried currants (or a mix)
2/3 c poppy seeds
For the egg wash:
1 lightly beaten egg
Stir together the water, yeast and 1 t sugar in a large bowl until yeast dissolves. Let stand until foamy, about 5 minutes. Now whisk in juice, eggs, remaining 2/3 c sugar, melted butter, zests and salt. Stir in flour, 1 cup at a time, until dough pulls away from sides of bowl and forms a ball.
Turn dough out onto a lightly floured surface and knead until just slightly sticky, about 5 minutes. Transfer to a buttered bowl and turn so that the dough is lightly coated with butter. Loosely cover and let rise until doubled in bulk, either at room temperature (about 1 ½ hours) or in the refrigerator overnight.
Meanwhile, stir together cream cheese, egg yolks, confectioners' sugar and vanilla until smooth. Add poppy seeds and dried berries. Set aside (at room temp or in the fridge, wherever your dough is).
When you're ready to shape and bake the coffee cakes, butter 2 baking sheets and set aside. If you've refrigerated the dough, let it come to room temperature before proceeding (usually an hour or so, depending on your fridge and kitchen!)
Punch down dough and divide in half. Roll out one half into an 11 x 15" rectangle. Spread half the filling evenly over the dough, leaving a 1" border. Beginning at one long side, tightly roll dough into a log, encasing the filling. Carefully transfer log to baking sheet, seam side down. With a sharp knife, make cuts about 2" apart along one long side of the log, cutting just three-quarters of the way across, like this:
Lift the first segment, turn it cut side up, and lay it flat on the baking sheet. Repeat with the next segment, twisting it so it sits on the opposite side of the roll. In my picture, the dough wasn't quite laying flat, but you get the idea: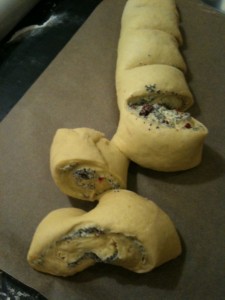 Continue down the log, alternating sides.
Roll out, fill and cut remaining dough.
Preheat oven to 350. Loosely cover dough and let rise until almost doubled in bulk, about 30 minutes. Brush dough with egg wash, avoiding the filling. Bake until cooked through and golden brown, about 30 minutes. Carefully slide coffee cakes onto wire racks, and let cool completely before slicing.