by Caroline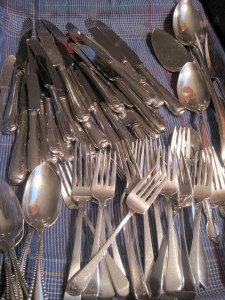 Years ago, Tony and I heard a radio ad that was so absurd, it has become a family joke. In the ad, a husband greets his wife with news that he's fixed the doorbell. His wife is skeptical. "You didn't use the good celery, did you?"
Now of course any time we use celery, one of us always asks the other about "the good celery." And it comes in handy other times in the kitchen, too: with chocolate, tortillas, salsa. But we haven't had reason before to use the phrase the more traditional way, to refer to good china or good silver. That might start to change a bit now.
Saturday afternoon, finding myself with some free time between kindergarten basketball and the 3rd grade night hike, I did what any writer with a pressing deadline would do: I started cleaning out the garage. I boxed up some old teaching files, reorganized the Christmas decorations, and then unearthed a sagging cardboard box packed with Tony's late mother Nancy's silver.
Nancy gave me some of it, like a fancy tea service she jokingly suggested I use when hosting my writing group. Instead, toddler Ben and I used to play tea party with it. A friend was appalled that I let him bang around with the antiques, but it's indestructible; much more suited to play than his sweet ceramics.
Other things I'd never seen before, like a child's complete dinner set (cup, bowl, plate; fork, knife and spoon). The cup has two handles – a perfect 19th century sippy cup – and the spoon is embossed with a smiling moon face. It belonged to Tony's English grandmother, Frances, and is engraved with her initials and birthdate (October 5th, 1899). I love to imagine her in a highchair, wearing impractical lace, her mother spooning rice cereal out of the wide bowl and into her mouth. There are platters engraved with Tony's parents' wedding date, oyster forks and iced tea spoons, a two-part butter dish (a bottom section for ice, a top section for the butter), a pie server, a slotted spoon, two pepper grinders, and enough flatware for a dinner party. It was all tumbled together in the box, next to another box that held dozens of felt storage bags and, conveniently, a tub of silver polish. Some of the utensils are banged up and bent from years of use and brief, inadvertent trips into garbage disposals. None of it's terribly fancy, but it's silver so, fancy enough. People used to receive silver for births and weddings, and maybe some still do, but Tony and I don't live in that world.
Tony and I were given exactly two pieces of silver when we married: a cake knife, hand forged by the friend of a friend; and a small Tiffany cheese knife. They are beautiful and perfect and I use them whenever I can, always thinking of the friends who gave them to us when I do. But otherwise we are not silver people. Like most of our friends, we registered for kitchen basics at Crate & Barrel when we got married, and received a simple flatware set which we've used every day for over ten years.
I called my mom after I'd finished unpacking this stash, to get her advice on cleaning it all, and my dad asked, "What will you do with it?" "Use it!" I answered. I'm not expecting to start having fancy tea parties, but the pepper grinders are already established on the dining room table, and I'll look for ways to use the platters and bowls, too. I don't think we'll be breaking out the good silver for pizza night, but I want to bring it into rotation. It'll certainly raise the bar at family dinner. It will sparkle in the candlelight if I can keep it decently polished. But most of all, it will do something that anything old and beautiful and battered by use can do: inspire conversation. We'll never know all the stories behind these pieces, but it's going to be fun to imagine them.